8 Tips for Bringing in More Earnings All Holiday Season

The holidays are the best time to shop with gift cards, even if you don't participate all year long. It feels good to raise money for your organization during the season of giving—and it doesn't require you to spend money on things you don't want, or give money out of your own pocket. From garland to gifts that give back and everything in between, use gift cards for all your holiday essentials.
Below are 8 simple tips you can use to make an impact on your organization for the holidays.
1. Stuff Stockings with the perfect present
$5 and $10 gift cards are great stocking stuffers, along with small toys, soaps, socks, and snacks. (Psst… remember to buy those things with gift cards, too.)
2. Encourage your family and friends to order gift cards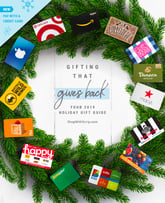 Share the Holiday Gift Guide with your family and friends, and encourage them to purchase their holiday gift cards through you. This way, your organization earns more and they get their holiday shopping done in one impactful place. Be sure to check with your coordinator about the final day to place an order for physical gift cards.
3. Shop with a credit card to get perks on top of the rebate
New this year: The option to pay with a credit card makes holiday shopping easier, faster, and more rewarding than ever before. Now, you can earn points, cash back, or any other perk you get by shopping with your Discover, Mastercard, or Visa—and that's in addition to the rebate. Simply enter your credit card information at checkout on our secure website.
4. Watch for opportunities to earn more
You'll have a handful of chances to earn even more this holiday season with events like Holiday Bonuses November 30–December 13 and 2 Days of Holiday Gift Card Shopping December 5 and 6. To get more information and timing details on opportunities like these:
Go to

Dashboard > Profile

and check the box to get email updates directly to your inbox.

"Like" us on Facebook to see the latest announcements.
5. Earn from anywhere with MyScripWallet.com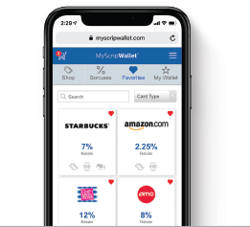 Reload physical gift cards you use all the time and purchase eGift cards (ScripNow®) on the mobile website, MyScripWallet.com, to shop from the checkout line, the waiting room, or wherever life takes you. Use online payments (PrestoPay™) to receive eGift cards immediately and to reload your physical gift cards faster. Check out brands that offer reloads and eGift cards.
6. Schedule an eGift card to arrive in a friend's inbox
Perfect for last-minute gifting—you can send an eGift card immediately or schedule it for delivery on a certain day. Simply select any eGift card and check the box next to "Make this a gift?" and your recipient will get an email with a link to view and print their gift.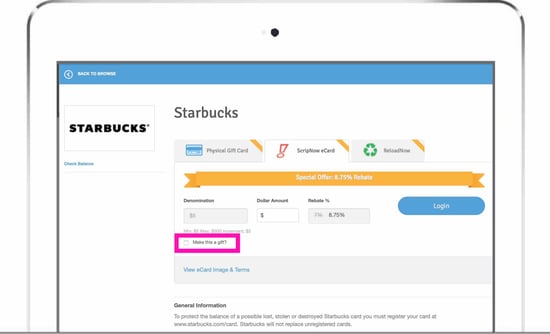 7. Use Scrip on all things holiday
Gift cards are great for gift giving, but you can also use scrip on everything you need this season, including:
Greeting and holiday cards
Holiday decorations
Food and ingredients
Snowsuits, sleds, and outerwear
TIP: Traveling for the holidays? Use scrip to book your flights, hotels, and rental cars. If you're road tripping to grandma's house, grab gas station gift cards that you can register and reload along the way.
8. Ring in earnings for the new year
Get a head start on your New Year's resolution: earning more for what matters to your family. Use scrip on everything you need for your New Year's Eve celebration and earn on appetizer ingredients, noise-makers, a fun outfit, and more. Going out for the night? Shop gift cards for restaurants, movie theaters, Stub Hub tickets, and more.
These tips will help you make the season of giving also a season of earning. Happy Holidays from the ShopWithScrip team.