We're making dreams a reality
For 25+ years, we've been committed to delivering the easiest, most effective way for non-profit organizations across the U.S. to fundraise for what matters most to them. Private school tuition, marching band trips, sports fees, and so much more. $800+ million raised and still counting, we are continuing to redefine what's possible.
Mission-driven, career-driven
Our team is a diverse and talented group of individuals, united by passion and dedication to making a social impact with our work. Together, we continue to innovate our omni-channel e-commerce platform to lead the way in disrupting the fundraising space, putting our customers and their needs at the forefront of everything we do.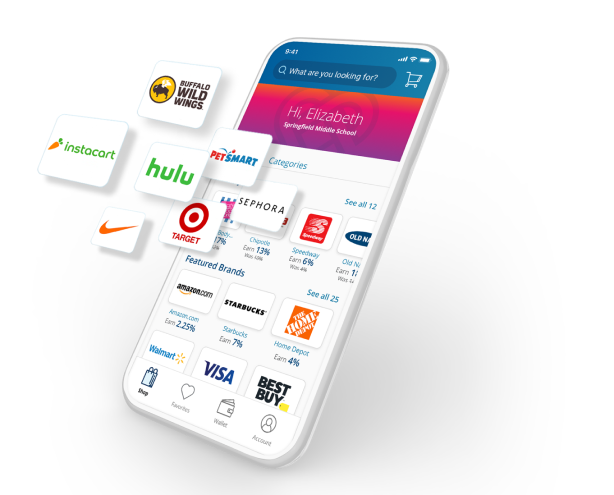 OUR MISSION
We make everyday impacts in local communities by providing the most convenient and effective fundraising solution.
EMBRACING OUR CORE VALUES
Our daily actions are inspired by the ideas we hold true. Here's what drives us:
We are passionate about what we do
What we do really matters. The work we do every day affects what local families within their communities do every day, so we place a high value on the little things. Every interaction, project, transaction, and gift card adds value—creates positive impact— matters. The little things are the big things.
We create authentic connections
We connect everyday families to large national retailers, enabling each to support the schools, churches, teams, groups, and other organizations that make their local communities a better place. Connections which are built by our team members, through collaboration with each other.
We are human
We are humans, with empathy, emotions, and the desire to do good. We support each other inside and outside of work. We are friendly and genuine as we work with people to help people. We care.
We hold ourselves accountable
We do what we say we're going to do. We set high standards for ourselves to ensure that our colleagues and customers benefit from our efforts.
We are true partners
We embody reciprocal partnerships with our colleagues and customers through teamwork, collaboration, transparency, and respect. It's a two-way street. We always assume positive intent, in our words and through our actions. This leads to mutual trust, inspiration, and growth. We rely on others, and we know people rely on us.
We win together
We win when everyone wins, and we do love winning! We love it when participating families win and can take part in the activities they love. We love it when our organizations win and can do more for their community. We love it when our colleagues win and have successes. And we celebrate the wins, together!
"Every day, I go to work knowing I'm making someone's life better—and I get to do it alongside smart, inspiring people."
CHRIS R, HEAD OF PRODUCT
EXPERIENCE THE PERKS
Your wellness matters, at work and beyond. That's why our benefits reach outside the office walls.






Short and long-term disability



401(k) matching and profit sharing

Development opportunities
"I love my job because I can make a real difference."
TAMMY L, CUSTOMER SUPPORT REPRESENTATIVE
Many specialties.
One vision.
Together, we're transforming
the fundraising industry.
We're collaborators, problem solvers, and do-gooders. We're passionate about helping families, businesses, and communities achieve what they can't do alone.
Where we work
Talented people can work with us no matter where they live.