3 Ways to Raise Money for Youth Teams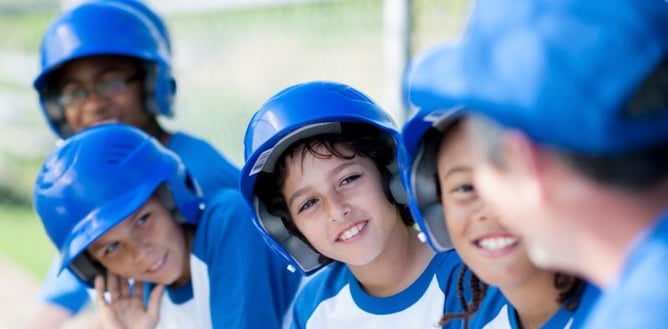 Youth sports are a great opportunity for your kids to stay active and involved, but the costs for participation on any team can really add up! Plus, as your kid reaches more competitive levels, you'll have to factor in the costs for hotel stays and filling up your tank for every game or tournament. Long story short, keeping up with the youth sports industry can be a tall order. But don't let the price tag keep your athletes from playing their favorite sports!
We know you're incredibly busy and that the last thing you probably want to think about is running a sports team fundraiser. I mean, who has time to go out and sell products hoping you make a profit? The good news is, there are easier ways to boost your team's funding than asking parents to go out and sell expensive products door-to-door. Take a look at our three ideas to get the wheels turning for your team.
Throw a Fitness Fundraiser
Fundraisers that have themes connected to your group are easier to market and can be more fun to attend! So, since you're raising money for your kid's sports team, run an active fundraiser that could get everyone in the community moving. Here are a few community-friendly fitness-themed fundraisers:
Get people moving with a fun run or walk-a-thon.

Head to the high school track or a local trail and get those legs moving! Fitness buffs will happily pay a registration fee to run for a good cause.

Host a tournament for fun. Organize brackets and a fun prize for the winning team and invite your whole community to play. Popular choices are basketball, volleyball, slow pitch, or even a golf scramble.
Provide yardwork services. Put your athletes to work raking leaves in the fall, and get them bundled up to shovel driveways in the winter. Charge a small fee and people will be happy to support your team while getting their chores done at the same time!
Host a Sports-Themed Auction
If you have some time and some parents who are willing to help out, host an auction. There's no shortage of sports memorabilia and merchandise out there. Pull your team together and come up with a list of auction items and packages you could offer. Here are some suggestions:
Memorabilia and autographed items from your popular local teams.
Does someone on your team have season tickets to any professional sports? Ask them to pick a date and offer up their seats for a good cause.
Give away team apparel or any "swag" items.
Start a Scrip Program
In addition to fundraising events, parents will appreciate a way to keep raising money throughout the season. This is where a scrip program comes in handy! Instead of using credit cards or cash for their everyday shopping, parents order gift cards through your team's scrip program. They receive the full value of what they paid, and your team receives an immediate rebate percentage on every gift card purchased.
It's important to keep in mind that you don't have to sell these gift cards! You're just using them for your own everyday expenses. On top of that, what's really neat about scrip is that you can split up your team's scrip earnings so a certain amount goes to the general team fund and the rest goes back to parents so they can earn money towards new equipment, registration fees, training, and more.
There are so many different fundraising options available for your team, and nobody says you have to pick just one! The more your team earns, the more opportunities will open up for your young athletes. Get your fundraising game on and make sure their youth sports experience is as great as it can be.
Next Steps: