Closing the Door on Door-to-Door Fundraising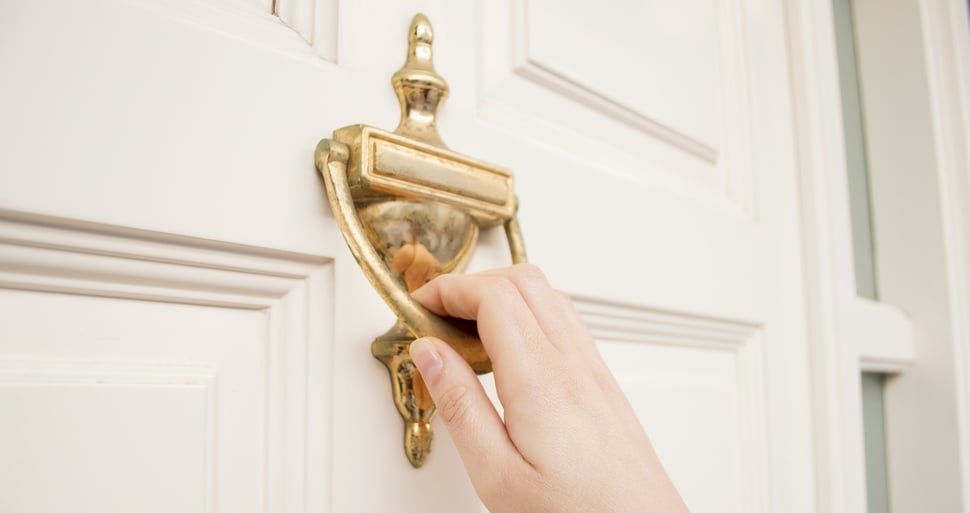 Fundraising always used to mean going door-to-door: from candy fundraisers to selling magazine subscriptions, wrapping paper, etc. Back in the day, this was just standard practice. But now, between the need to raise more funds and growing safety concerns, going door-to-door to raise money seems less than ideal.
Is Selling Door-to-Door Safe?
You'd be hard-pressed to find a group of parents who feel good letting their kids wander around a neighborhood selling items. Not only is it unsafe in regards to not knowing who's behind any given door, but even the idea of your kids walking through an unfamiliar neighborhood can be unsettling.
The facts on public and private school fundraising are a little shocking. Take, for instance, this statistic that of the 94% of schools that participate in fundraising, 50% forbid students to go door-to-door while an additional 25% restrict selling door-to-door.
Each year, more and more school boards all over the country are facing this decision of whether they should limit who kids can sell fundraising products too or not. As you're planning out your fundraisers for the year, keep the safety of the students in mind.
But it's Not Just a Safety Concern
Safety matters aside, going door-to-door is taxing on both kids and their parents. Chances are, parents aren't off the hook when it comes to a selling-based fundraiser. They still have to volunteer their time to escort a group of kids around. EducationWorld.com talked to a couple of parents about fundraising door-to-door who said:
When my kid sells things to my friends and neighbors, it puts them on the spot. If I let my kids sell to friends and neighbors, I have to buy from their kids, and some of them have a lot of kids! I'd feel obligated. -Monica Stillwagon
For a working parent, it's hard to pick up and drop off money and merchandise during the day, but you hate for your kid to feel bad and not participate. -Nancy Calhoun
Some parents don't have a choice in whether they want to participate or not, though. Because of their need for funding, some schools have instituted mandatory fundraisers or requirements that every family has to achieve. Although it seems a little strict, mandating a fundraiser gives families a push they might need to raise money. The only issue is choosing a fundraiser that will be successful while also avoiding door-to-door sales.
Alternative Fundraisers
Schools are tightening the reigns on fundraising efforts to keep kids safe, but the fact of the matter is that schools need funding. There are tons of fundraisers your school could run, but you have to be cautious when you're exploring your options. Some fundraising agencies and companies might handle a lot of the heavy lifting, but they also take over 50% of the profit from the organization! There are two options, though, that ensure you get 100% of your earnings.
Ask for Donations
Some schools have ditched the selling mentality and are adopting a donation system. There was a spike in this last year as one PTA in Texas sent home a hilarious alternative fundraising form that simply asked for donations in lieu of all the time and money they'd spend on a traditional fundraiser. This way, schools will raise the money they need, and parents won't be hounded to join in on another fundraising effort. The only downside with donating is that while parents save some time, they will be spending extra money, which can be a big request for some families.
Raise Money with Scrip
Let's play a quick game of "Would you rather?" Would you rather send a check for $200 for the school year, or raise $200 in a few months just by making your everyday purchases with a gift card? I think you'd probably want to keep that $200 in your pocket and just minorly change your spending behavior.
If you want to save time and not spend any extra money, scrip is your best alternative to traditional fundraising. Parents in your school will order gift cards at a discounted price, but they'll pay full face value. That difference in cost is immediate fundraising for your school, and then they'll use that gift card on their shopping. The best part: a family can raise $600-1000 a year just by using scrip.
Planning out your fundraisers when you want to avoid door-to-door selling can be hard work. But just think about three "keeps": keep your money in your wallet where it belongs, keep your sanity intact, and keep your kids safe by running a smarter alternative fundraiser.
Next Steps:
Done with door-to-door fundraising? Learn more about how gift card fundraising can support your organization with your everyday shopping!
Like us on Facebook to learn more about scrip.