Getting Families Ready to Earn on Spring Break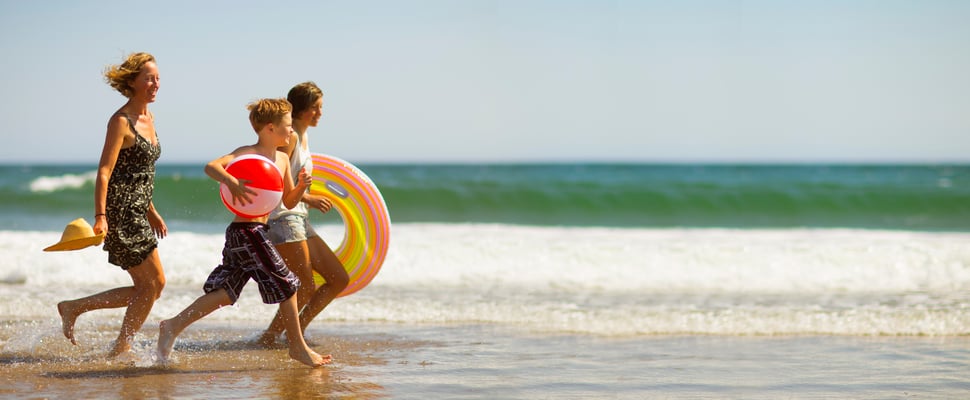 As the dreary winter drags on, there's nothing you're looking forward to more than that lovely Spring Break. Whether you're heading out to a warm destination or just taking the week off to hang out with the kids, you're likely counting down the days until you get that much-needed respite.
For you, Spring Break isn't just a trip you look forward to. It can also be a big source of earnings for your scrip program! Seriously, from flights and hotels to small excursions, dining and more, families can use scrip for almost every facet of their trip. But do parents in your organization know that they can scrip basically their entire vacation? If not, now's the time to let them know, so they can start earning.
Show Them How to Use Scrip to Plan Their Spring Break
There are two sides to using scrip on Spring Break. The first of which is using scrip during the planning process, predominately booking flights and hotels or lodging for your trip. While some of this bigger planning has probably set sail already, families can still use scrip to help update their getaway wardrobes.
To help you communicate all of the ways families could be using scrip on their vacation, download and share this scrip vacation promotional flyer and 3-Up that helps them plan now for what they need to take with them so they can maximize their earnings. If you don't want to print off flyers, you could also share a link to our featured retailers for Spring Break that they can look at and shop when they have time.
Essentially, the key is to get families set up with the physical gift cards they might need for their vacation, like a reloadable gas card, or a hotel gift card.
Make Scrip Accessible to Them While on Vacation
The other side of using scrip for a vacation is using it as their main payment method on all of their expenses while on vacation. Some might be clinging to their credit cards since the purchases they're making will be somewhat unexpected, but that's where you come in and show them all of the ways they can use scrip spontaneously.
Of course, in order for them to take full advantage of scrip while they're on vacation, they need to be paying online and ordering on MyScripWallet™. If both of these are foreign to your program, now is the time to get them set up.
Setting up Online Payments
Want to maximize your program's earnings over Spring Break and beyond? Enable online payments. Allowing families to pay online means families will be able to order eGift cards and reloads that process in real time, which will help get them into the habit of shopping with scrip.
Keep in mind, paying online is only an option if your organization pays by ACH. If you'd like to make the switch from paying by check to ACH, fill out the payment change form on the Dashboard. If you pay by ACH and you're not sure if you've enabled online payments for your scrip program, check out this video:
Once you've enabled online payments, spread the word to families by sharing this blog post or video to show them how they can enroll and earn!
Teaching Families about MyScripWallet
Once they've enrolled in PrestoPay, they'll be able to order physical gift cards, eGift cards, reloadable gift cards right from their phone with our mobile website, MyScripWallet. They can access MyScripWallet from any mobile device with a web browser, and it conveniently houses all of their eGift cards and reloadable gift cards. Share this video with families to give them an overview.
Addressing Hesitations about Using Scrip on Vacation
Regardless of how convenient vacationing with scrip sounds to you, you still might face a little bit of pushback from parents or at least some hesitation about using scrip. Here are the most common things you'll probably hear and our suggested responses:
I don't want to eat at chain restaurants on vacation, so I won't use scrip.

You respond with: I totally get that, but if you want, you could get a prepaid gift card from Visa, American Express, or Discover that you could use at any restaurant! They're also great for souvenir or boutique shopping. That said, you never know if you'll want to make a quick lunch run to Subway, so it doesn't hurt to be prepared for a fast meal.

We need to get some groceries, but I don't know what grocery store I would be shopping at.

You respond with: That's a great point! Luckily, if you stay in the US, Walmart is a great option for grocery shopping. Not only are they everywhere, but they also offer eGift cards, so you don't even need a physical gift card.

I don't want to have to carry around a lot of physical gift cards on my vacation.

You respond with: Good news, you don't have to! A lot of the retailers you may utilize for Spring Break offer eGift cards, so as long as you have access to Wi-Fi or data on your phone, you can use scrip and earn thanks to MyScripWallet.
At this time of year, parents are probably only thinking about vacation. Help them refocus, though, to see how much they could earn on their excursions so vacation can serve two purposes: giving them a well-deserved break and helping out your organization!
Next Steps:
Share this blog post with families to show them how to use scrip on their next vacation.
Vacationing on Spring break is great, but getting there can be a whole other story! Check out this blog post for tips on how to have stress-free spring break travel experiences!