How to Set and Reach Your Scrip Fundraising Goals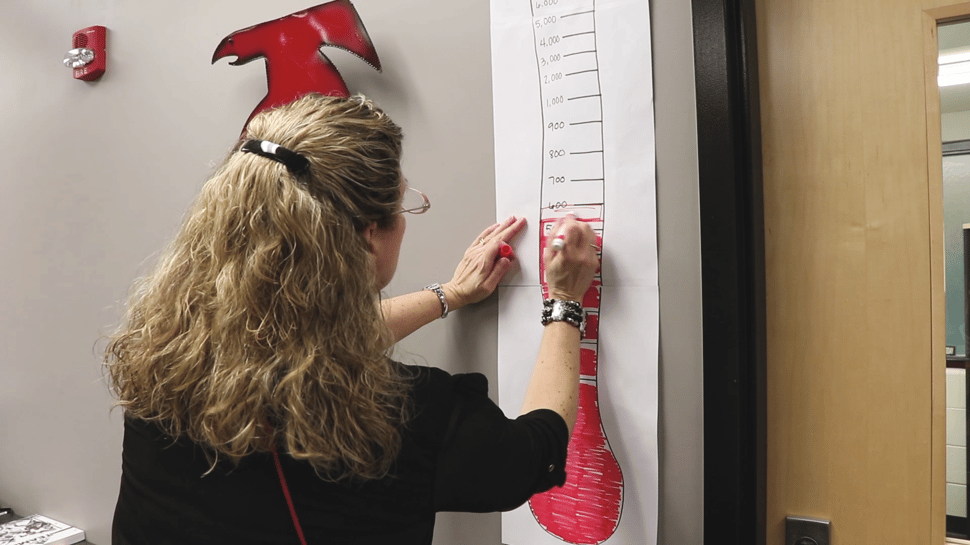 After reading the title of this blog post, you might be thinking, "I already know my scrip fundraising goals…to raise money, of course!" While raising funds is the ultimate goal of every fundraiser, there are other factors to consider when it comes to scrip that extend far beyond the amount you raise.
One such factor is the lack of excitement from many school parents with regards to fundraising. You might lay out a ton of groundwork for fundraisers at school, but all parents want to do is send in a check and call it a day. We'll dive more into this later on, but it's just one example of why setting concrete scrip fundraising goals is so important.
Setting Your Scrip Fundraising Goals
How Much Do You Want to Earn?
Figuring out how much money you want to raise might seem like an incredibly obvious goal to set, but it's a good one nonetheless. Keep in mind that scrip fundraising revolves around small repeated earnings adding up. While some retailers offer rebates in the double digits, a lot of the routine purchases you make, like gas and groceries, have smaller rebates. That said, these can accumulate to $264 earnings a year just for you, but it's important to set the bar accordingly.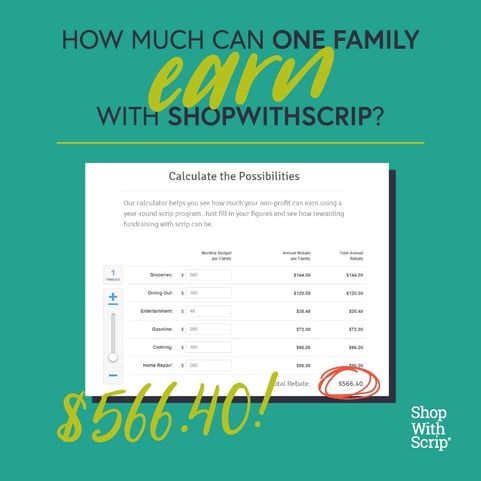 If you're a seasoned scrip shopper, look at past years and add-on. Think about the projects you have to accomplish this year and what is feasible for your program to generate, and go from there.
You can take this goal a step further by hanging up a large picture of a thermometer that you fill in as your program earns more and more. Consider adding hash marks that show the various projects your funds will go toward. It's a simple, but powerful visual that will encourage people to keep using scrip.
Decide How Long Your Fundraiser Will Be
Once you have your number set for how much you want to raise, it's time to establish a timeline to reach that goal. Will you run your program for a month or two? Maybe to the end of the school year? Or you could even run your program all year long!
That's one bonus of scrip: you can fundraise on your own clock. While you will choose a timeframe that works best for your organization, we suggest running a year-round program to maximize your earnings. See, scrip is such a habit-forming fundraiser that once you and your families get into it, they won't want to stop spending and earning with gift cards just because the school's not in session.
If you do opt for a year-round program, you'll want to make sure families are ordering online, paying with PrestoPay, and that they have reloadable cards to which they can add funds. If you want to keep it year-round, consider how families order. Start thinking about these logistics now, so you're ready to make the most of your program.
How Many Families Do You Want to Get Involved?
Like we touched on before, don't just set monetary goals, set goals for how many families you want to get involved in your scrip fundraiser! Remember, you will have some parents who would rather just send in a check, so they'll take a little bit of persuading to see how scrip can keep their money in their checkbook.
Increasing parental involvement in your scrip fundraiser will take some marketing. Luckily, you can use our Promotional Tools to spread the word, in addition to sending out emails and posting on Facebook. In marketing your scrip program, make sure you tell families what the funds will be used for and how much you want to make. If parents know what it is the money will be used for they might be more receptive to the idea of fundraising.
Reaching Your Fundraising Goals
Run Reports
If you have very concrete earning goals for your scrip program, running reports will come in handy. You can run reports for both your organization and for individual families to track how everyone is doing. Families can access their own reports easily from their Dashboard, but it's also a good idea for you to send out progress reports every few months just to keep them updated. This is especially beneficial if your school has a minimum amount a family needs to contribute.
Share Rebates with Families
Want more families to get involved? Consider sharing the rebate earnings with them. We know it might sound counter-intuitive to your overall earnings for your program, but it's not! See, if you give families credit for part of the rebates they've earned, they'll be more likely to participate, and even convince friends and families to contribute and get involved too. On top of that, they'll want to spend with scrip more so they see more earnings themselves!
Don't take our word for it, just check out what Tasha, the coordinator of the Rockford High School Marching Band, had to say:
Typically, on an average year, we do a 50/50 split, so our band students earn 50%, and then our general band fund gets 50%. This year with our March to Macy's program, we kind of changed our incentive, so band families earn 70% this year, and then the general band fund earns 30%, and we haven't seen a negative change. Actually, we've had a growth of our program! So our general fund has not been impacted at all, we're still raising more funds for our general band fund even with the split of percentages.
Hold Contests and Incentives
In addition to sharing rebates with families, a good way to get them motivated is to give them the chance to win something. Up your family participation just by holding contests or creating incentives. You could hold a drawing with prizes for scrip shoppers who place orders, or even throw a party to celebrate when you reach a goal!
Obviously, any incentive you choose will mean more work for you and maybe a little bit of spending, but it will be completely worth it if you can get more families to join.
Promote the Big Earning Days
Throughout the year, some of ShopWithScrip's partnered retailers will offer 24-hour flash bonuses where their rebate percentages are even higher, or they'll have a slightly higher rebate for a few days on a regular bonus. One of our favorite promotions, though, is Thank-Scrip-ing Day, where for 24 hours only, there are dozens of flash bonuses on ScripNow, Reload, and ReloadNow for some of the most popular retailers we carry. Keep an eye on our What's New page, like us on Facebook, and subscribe to our emails to stay in the loop about all upcoming promotions so your program can earn more.
Follow Our Coordinator Blueprint
If you're new to scrip and being a coordinator, it can be overwhelming to learn everything and to get the ball rolling for your program. We created a Coordinator Blueprint for you to follow that will help you learn about managing your program from the get-go, and will keep you organized throughout your scrip journey.
You can access the Blueprint through the Support section when you're logged in as a coordinator. Then, simply follow along with the blueprint and check off the boxes as you move down the list and complete items.
You'll also be able to download and look at different guides to walk you through every aspect of running your scrip program. In addition to coordinator resources, we also have a lot of materials for families too.
Get Connected
If you're ever feeling stuck with your program and just need to bounce some ideas off of people, join our ShopWithScrip Fan Group on Facebook. It's a meeting of the minds of coordinators across the nation. Chances are, you're not the only scrip coordinator facing a certain issue, so reach out to the group for help reaching your goals!
Now that you've laid out your goals and how to achieve them, hopefully, you're feeling a little more confident and ready to earn rebates!
Next Steps: