Crowdfunding 101: What you need to know about the popular fundraising idea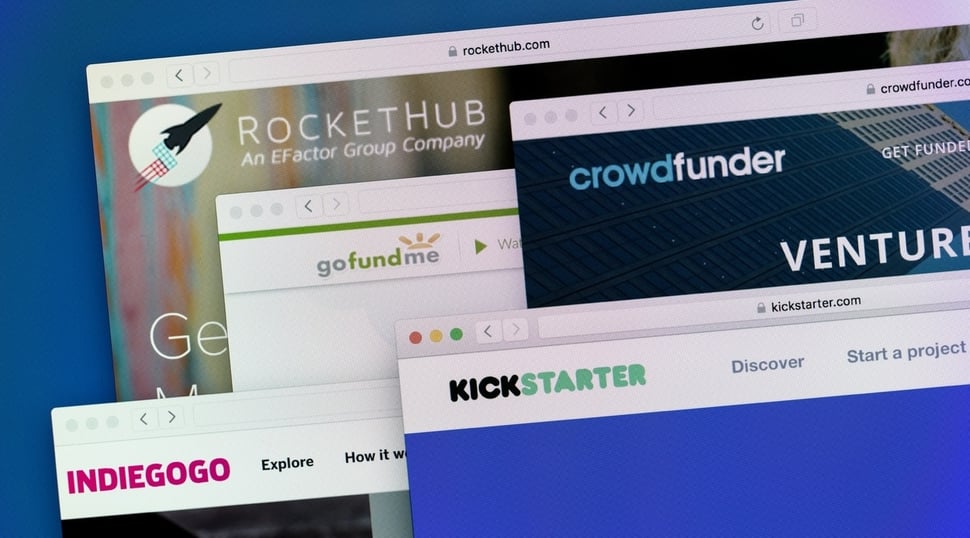 You scroll through your social media channels a few times a week (or a day), and you probably see a posting about a donation-based fundraising campaign happening for a friend's school, sports team, church, or music group. Maybe you just scroll right on past, or maybe you click on it to read more, and then even decide to donate a few dollars! You just participated in crowdfunding.
Crowdfunding has been growing in popularity over the past few years as it's an easy, low-effort way to raise money relatively quickly. Plus, unlike traditional donation campaigns, you don't have to directly ask your friends and family to donate, which can be awkward for a lot of people.
While it's likely you're familiar with crowdfunding, let's dig a little deeper into what it is, why it's working, when to use it, and how to start.
What is Crowdfunding?
Just like it sounds, crowdfunding revolves around a group of people funding a project or objective. The idea being that the bigger the crowd you get supporting you, the less money everyone needs to pitch it, so it seems more reasonable for them to give.
Online crowdfunding gained popularity since the early 2000's but was really incepted in 1997 when the U.S. tour of the band Marillion was funded by their U.S. fan base raising money themselves to give to the band. 2008 was the first year that peer-to-peer donations started taking place.
While the sites gained popularity more recently as a way to help people pay for medical expenses or to fund relief efforts, it's also become a lucrative mode for raising funds for every kind of need.
Whether you're an entrepreneur looking to get funding to get off of the ground, or a nonprofit organization in dire need of funds, countless platforms have cropped up to fit your needs. Subsequently, many have turned to it as a staple in their fundraising regimen now.
Why Does Crowdfunding Work?
First and foremost, crowdfunding works because it's not as intimidating or uncomfortable as asking for donations. Instead of asking your friends and family members in-person or over the phone, you can simply share a web page link. Then, they won't feel pressured or put on the spot, and they will be more likely to give.
Not only is it easier for others to give, but it's also easier for you to put together the campaign. Instead of recruiting volunteers, writing donation letters, and setting aside time to call potential donors, you can simply create a campaign page on one of the many platforms. Then you can share the campaign via email or social media and watch the donations come in. But the ease of putting it together and giving are only part of the equation.
People are Feeling More Charitable
Blackbaud, the software company for nonprofits, put together their annual charitable giving report in which they uncovered these interesting findings on giving in 2016:
Overall giving is up 1%
Online giving grew 7.9%
Online donations were 7.2% of all fundraising
Online fundraising accounted for $2.6 billion across 5,210 nonprofits
Giving to Arts & Culture and K-12 Education saw big growth
Additionally, those who are giving are doing so for multiple organizations. The 2016 State of the Plate reported that amongst churchgoers, 34% give to four or more organizations consistently, while 80% give to at least one other organization in addition to their tithing.
The other thing to note is when people are feeling the most charitable. It comes as no surprise that there's an uptick in giving in December, with one-third of all annual giving happening in December. Even more interesting? 12% of all giving happens in the last three days of the year!
Is Crowdfunding Always the Right Choice?
Although it might be one of the easier fundraising ideas out there, crowdfunding isn't right for every funding situation. A good rule of thumb is only to implement crowdfunding when you are raising money for specific projects or events as donors will be more motivated to give to a specific cause. Don't just rely on it for general fundraising purposes, like participation fees or organization and classroom dues.
So what are some better instances to use crowdfunding?
Students are taking a hands-on learning excursion to a foreign country for class.
Student-athletes qualify for a big tournament or competition, and the cost amounts to more than what the team dues cover.
Marching band students are selected to march in a national parade, and the cost of travel sets some of the students back.
An elementary school needs money to make their playground accessible for all students.
Another thing to keep in mind is that crowdfunding works well when you can cast a large net and share the fundraiser with your community. As I touched on before, the more people you have donating, the less everybody needs to give.
How to Start Crowdfunding
Does crowdfunding sound like a good fundraising idea for your organization? Education World laid out nine tips for schools that want to run a crowdfunding campaign:
Only use crowdfunding for specific projects or needs.

Like I mentioned earlier, donors will be more likely to give when they can see what their money is going toward.

Find the best platform for your organization. There are a ton of platforms out there, so choose the one that's right for you, keeping in mind that these sites all take a percentage of funds raised as a fee.
Set reasonable goals. Avoid setting the bar too high when you're just getting started. Besides being discouraging if you don't hit the mark, potential donors might shy away from a campaign with a lofty goal.
Keep the campaign short. The shorter the campaign, the greater the sense of urgency your donors will have to give.
Market your campaign. Your crowdfunding campaign is only as good as the number of eyes that see it, so spread the word however you can!
Care about the quality of your marketing. Don't just throw your campaign page together and hope for the best. Spend some time making your page look good and crafting your marketing messages to appeal to donors.
Spread the word to different donors. Share the campaign with alumni, parents, faculty, and members of the community to get the biggest return.
Offer incentives and thank your donors. If you really need to get the needle moving, offer incentives for larger contributions, and of course, take the time to thank all of your donors.
Have the kids be a part of it! More likely than not, the crowdfunding is happening to give them an opportunity, so have them create the page and thank the donors. More and more parents want kids to take charge in the fundraising, and with crowdfunding, there is a good opportunity to do that.
Now, the next time you're on social media, and you scroll to a donation request post, you'll know a little bit more about what makes them so successful, and maybe you'll even add your own crowdfunding campaign to the mix.
Next Steps:
Have you ever run a crowdfunding campaign? Tell us about it in the comments.
Scrip is another easy and low-effort way to raise money. Learn more about it here.