Last-Minute Oscars Party Ideas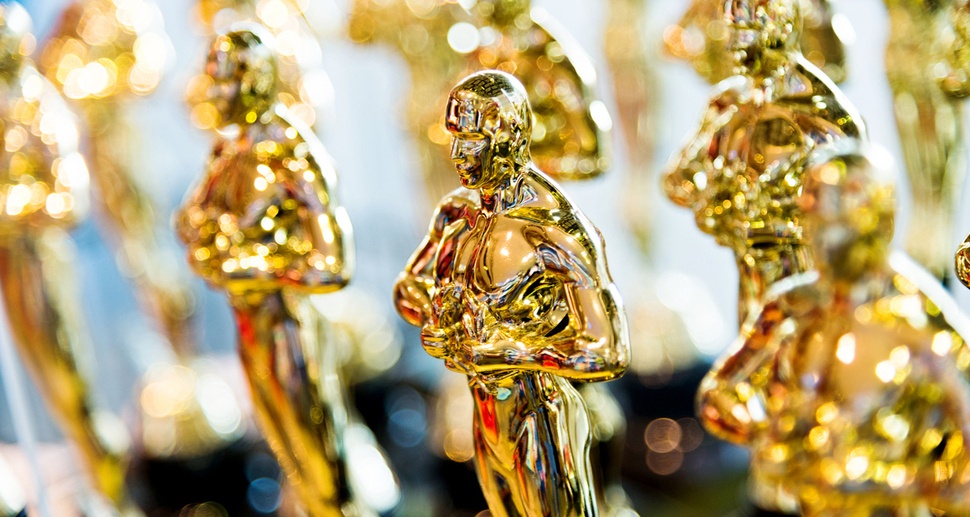 Something big is coming to a screen near you on Sunday. No, it's not the Super Bowl. But for movie lovers, it might as well be. The 26th of February is the 89th Academy Awards, which originated in an era of print news and radio. The Academy Awards were first televised in 1953, and ever since they came to television, the Oscars has become an award show watched around the world. Which means it's a pretty good reason to throw an Oscars party.
If you've never thrown a watch party, it's not too late to get started. There are so many ideas on Pinterest that you can easily put an Academy Awards party together in no time. But I've also pulled out some cool ideas for food, games, and entertainment during the biggest night in Hollywood.
Food Ideas
Let's be honest, the hardest part about throwing any party is planning the food. I think there's a misconception that things need to be fancy for an Oscars party, but easy appetizers and hand-held treats will suffice.
Savory
There are certain appetizers that always go over well, like spinach and artichoke dip. Try out these tasty hybrid Spinach Artichoke Cups that will cut down on cleaning time. Tarts are also a good option, and these tomato ones look pretty heavenly.
If you don't want to exercise your culinary chops, take an alternative route and jazz up normal food and make it Oscar-ready. Yes, I'm saying put your food in a tuxedo, like these adorable hot dogs.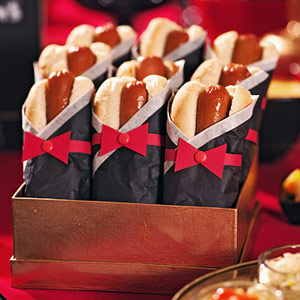 Image Source
Still not sure what to make? Pocket Change Gourmet put together this post of 36 recipes covering appetizers to main dishes, snacks and drinks to dessert. The best part is they're all easy and inexpensive. If you do want to cook up something a little fancier, BuzzFeed put together this post of 29 quick and easy, yet fancy appetizers that are perfect for an Oscars party.
Sweets
Again, you don't need to spend hours baking away in the kitchen for your Oscars party. Stick with one dessert which can be as easy as sprinkling edible gold glitter on store-bought treats. You can even purchase a stockpile of movie theater candy and call it good. Movie theater candy ties in with the theme while satisfying a sweet tooth.
Nothing says the movies much like popcorn does, so you could also offer up some sweeter popcorn options in addition to the traditional, buttery snack with a full-blown popcorn bar. Or, and this might take a bit more work, but you could make these awesome popcorn cupcakes. Don't worry, they're marshmallows on top, although actual popcorn on a cupcake might be the ultimate sweet and salty combo!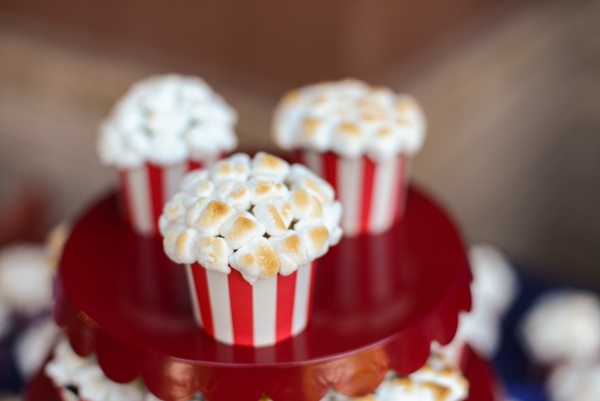 Image Source
Games and Entertainment
It's no secret that the Oscars can drag on a bit. There's all of the excitement and buzz watching the celebrities walk into the awards show, and then a few of the bigger awards are given throughout the night, but it always takes a long time to get to the Best Picture. Luckily, there are tons of games that can keep you entertained throughout Oscars night.
Make Your Own Oscar
Start the night off with a fun craft and make an Oscar Statuette with this free template. Before your guests arrive, you can crank out a couple of statuettes as decorations, but then they can join in on the fun throughout the night. Making these with cardstock might be a sturdier option, so make sure you have supplies on hand.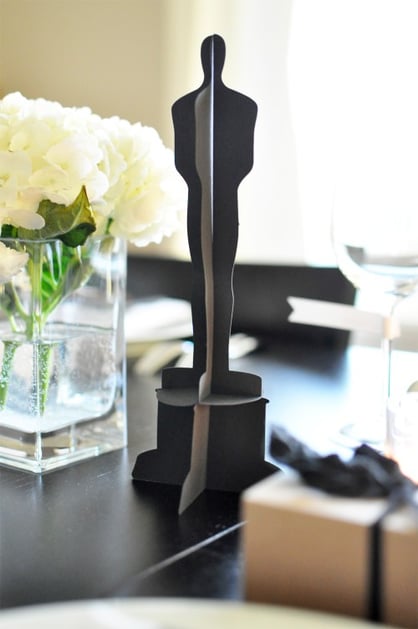 Image Source
Cast Your Ballots
Not just the Academy of Motion Picture Arts and Sciences should be able to vote on the best films. You and your crew can too by making these cool DIY Oscars Ballots. You can have the kids help make the envelopes for a fun crafting activity then download and print off these ballots for everyone to fill out at the beginning of the night.
Acceptance Speech Mad Libs
Soon after your guests arrive, have them choose words at random and write them down. Use these fill-in-the-blank sheets and write down their chosen words, then, when acceptance speeches or a commercial come around, have each guest read their mad-libbed speech! You'll definitely get some laughs.
Oscars Bingo
This is a fun game for everyone. Print out these bingo boards and pass them out during the pre-show when all of the celebrities are walking in. Bingo is a fun way to engage with the Academy Awards even when the show seems to be dragging!
Photo Booth
Fun for kids and adults alike, a photo booth is always a great party addition. Some people get super crafty and make these paparazzi cutouts, but just having a red carpet and some props will be enough fun. Celebrations at Home has some great tips for the perfect Oscars photo booth.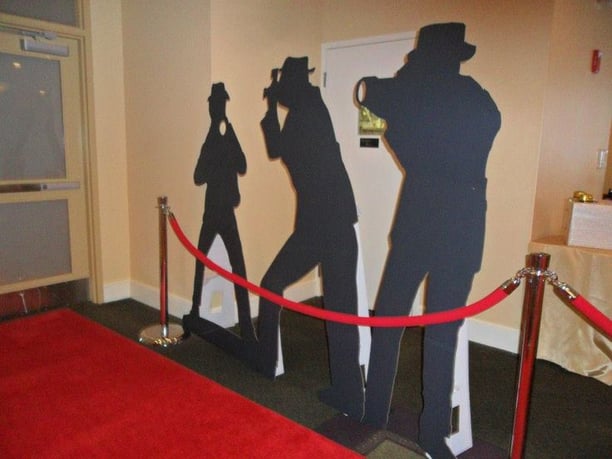 Image Source
An Oscars party doesn't take months and months to produce. If you follow some of these ideas, you might even win an award for Best Last-Minute Watch Party!
Next Steps:
Have any suggestions for throwing an Oscars Party? Leave us a comment below!