Easy Low-Cost Valentine's Day Gifts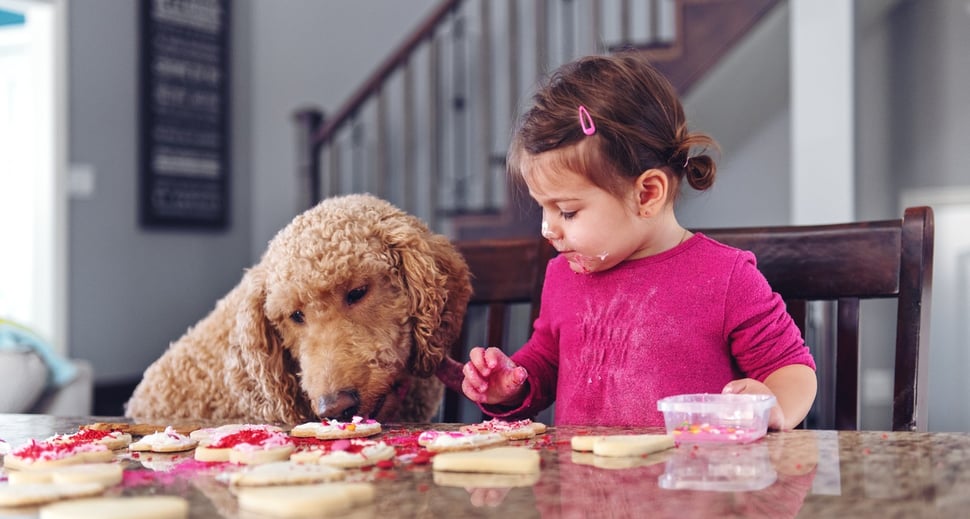 Ah, Valentine's Day. A day devoted to love and all things hearts. Sure, it might feel like just another greeting card holiday, but it can still be fun to celebrate with your loved ones.
But what do you get for all of your Valentines? Good news: you can avoid shopping for overpriced presents and do some simple DIY-ing this Valentine's Day! Here are our suggestions for easy and low-cost Valentine's Day gifts.
Valentine's Day Gifts For Your Kids
Whip Up Some Slime
It's sticky, it's gooey, it's everything your kids have ever dreamed of. It's slime! Slime is an incredibly hot commodity for young kids right now, and although you might not want to play with it, it is a simple toy to put together that will keep the kids active and occupied for a while.
Some slime recipes have been critiqued for containing Borax, but this Valentine's slime is Borax-free and only has 5 ingredients:
½ cup of white glue
½ cup of warm water
½ cup liquid starch
Pink food coloring
Red glitter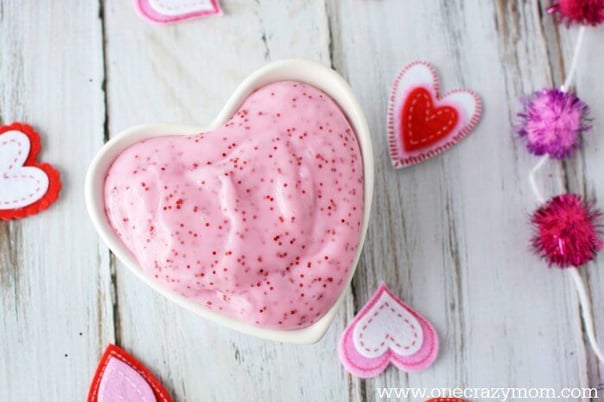 Image Source
Pack Them a Special Lunch
Your kids will go crazy over a special Valentine's Day lunch. There are a few different approaches you can take when packing their lunch. You could pack a Pinterest-worthy lunchbox in which everything inside is heart shaped. They'll think you're the parent-of-the-year if you surprise them by making a meal of their favorite foods. Or, you can make a tasty Valentine's treat you sneak in their lunchbox accompanied by a little love-note.
Have Them Cook with You
Chances are you're not finding a babysitter if you're just starting at this stage of the game. So make Valentine's Day dinner a family affair and let your kids help you out with the cooking. Sit down with them and pick out a special dinner and dessert recipe and then let them play the role of sous chef.
Make a "Fancy" Breakfast
If you did manage to find a sitter and get out of the house for a dinner date, good work! To avoid having your kids feel left out consider spoiling them with not just a typical morning breakfast. If your family has a weekend breakfast favorite, you could throw that together. If that sounds like a chaotic morning waiting to happen, pull out your slow cooker instead and cook a delicious breakfast recipe overnight.
Give Them a Low Denomination Gift Card
If your kids are a little older, they might think money is always a great gift. Even if it's just $10, they'll think it's amazing! ShopWithScrip offers a number of $10 gift cards that your kids could use to grab a quick bite, head to the movies, or even buy themselves a book. Plus, your organization will earn a rebate on whatever card you buy them. If you're a scrip parent, you really can't lose with this gift.
Valentine's Day Gifts For Your Spouse
Make a Date Night Idea Jar
Do you and your spouse struggle figuring out what to do on your coveted date nights? Make a jar of date night ideas for you and your spouse! This is an easy and low-cost gift that will just take a little bit of time on your end planning up some fun date night activities. Ideas can range from cooking a meal together, to going mini-golfing, or binge-watching your favorite show. Just get a mason jar and popsicle sticks and write down date ideas. Tip for use: turn the sticks upside down when you've already done that activity.
Write Them a Love Note
You don't need to be named Shakespeare to compose a romantic love note for your Valentine. Besides, when was the last time you left your spouse a note that wasn't just a honey-do list? If you've got some crafting supplies handy, go all out and glue together a homemade Valentine. You and crafts don't get along? No problem, just putting your pen to paper and writing them a sentimental note will be an awesome gift.
Make a Meal Together
Your kids aren't ones for cooking, so you scrapped the idea from above of cooking with them for Valentine's Day. But you still have to eat, so try making something special (read, not kid friendly) with your spouse! Instead of making a trip to the grocery store to buy ingredients, try out the meal service company, Chef'd, that is subscription-free so you can buy one meal at a time. Just order a meal kit, it will be delivered, and then you and your Valentine can make a gourmet meal from scratch!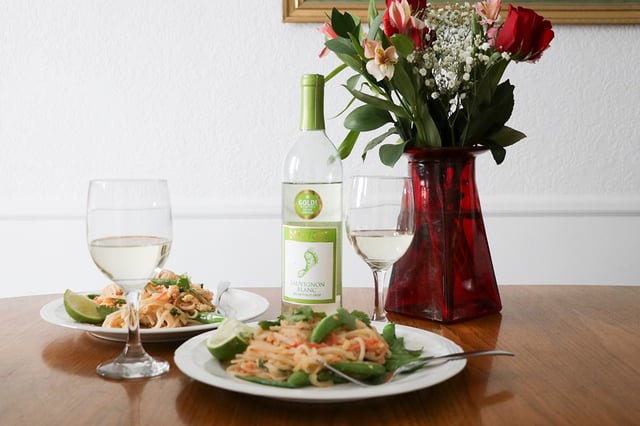 Image Source
Movie Night Basket
One thing you and your spouse can probably find time for after a long day is snuggling up and watching a little bit of TV or a movie. Kick this up a notch and get all of the ingredients together for a movie night with your Valentine, including popcorn and any kind of movie theater candy they love. Once the kids go to bed, pop in a movie and enjoy! Side note: it's totally acceptable to fall asleep during the movie, like they say, it's the thought that counts!
Don't Forget Your Fur Family!
Whether you call them your fur babies or not, your dogs and cats are a big part of your family, and they deserve to be included on Valentine's Day festivities. New toys and treats are always appreciated by our furry friends. If you're one to dress your pets up in sweaters, that's an option too. You could make a quick run to the pet store to grab a toy or treat, but you could also home make a gift for your furry bundles of joy this year with some things you have around the house or in your pantry.
Don't give in to the last-minute expensive Valentine's Day presents. Just take some time now to plan a little something special for all of your loved ones.
Next Steps: