Cooking Up Valentine's Day with Chef'd
Valentine's Day is in a week. Are your plans set, or are you going to fly by the seat of your pants? The latter will probably result in you and your Valentine fighting the crowds at a restaurant with your kids in tow because your babysitter is booked and has been for weeks. If you want to avoid this calamity, you can cook up your own Valentine's Day meal at home. Sure, you'll still have to find a recipe, make your list, go to a grocery store, buy all the ingredients, come home, unpack, and prepare the meal again all potentially with your kids by your side. Sound exhausting? Chef'd is the solution!
Chef'd is a one-time meal ordering service, not a subscription. You don't have to sign up or choose a membership like a lot of other meal services. You can just get a meal when you want, no strings attached. That said, there are meal plans you can follow, like Atkins and New York Times Cooking that are subscription-based, so you'll get meals every week. But with Valentine's Day in mind, I thought I'd try out purchasing one meal that I could make for my sweetheart, and I've blogged my experience below!
1. Picking Out My Meal
I went onto Chefd.com and perused every page of meals they had. To save time, or if you have something in mind, you can search specifically by using lifestyle filters and food preferences. I scrolled and scrolled because I wanted to see all of the options Chef'd offers. One thing I noticed immediately is that all of these recipes were curated by professional chefs, so I knew whatever I got was going to be good.
The meals vary in skill level, but every meal has an in-depth profile to help you decide what works for you. The meal profiles lay out what you get in the box and also what cookware and ingredients you need. For the majority of recipes, they'll rely on you to have things like salt, pepper, and olive oil.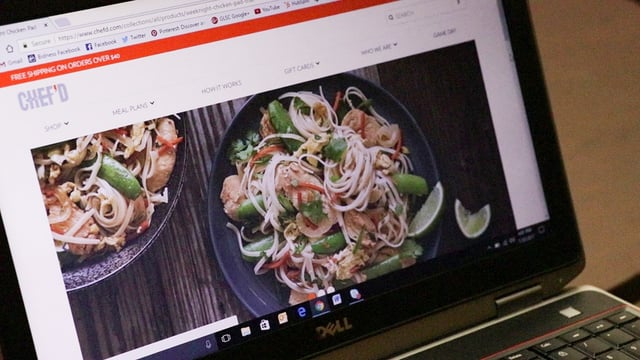 After scrolling through countless mouth-watering recipes, I went with one of their highly reviewed meals, Weeknight Chicken Pad Thai, and a tasty looking dessert, the Red Velvet Cream Cheese Squares. Right now, Chef'd is offering Valentine's Day bundles that include a 2-serving meal and a free red velvet mini-bundt cake and a card. P.S. act quickly if these sound appealing, supplies are limited!
When I was ready to check out, I used a Chef'd scrip gift card for my order, which I got through ShopWithScrip.com. The eCard had an awesome 10% rebate, so I could feel good about spending this money to try out Chef'd. One thing to note is that you have to activate the eCard before you can use it. There are steps to do this on the checkout page, though, so it's a non-issue.

The total came out to $55 for both the Chicken Pad Thai ($25) and the Red Velvet Cream Cheese Squares ($30), which, compared to a Valentine's Day date night out is incredibly reasonable!
2. The Delivery
At checkout, I could choose what day the food would be delivered so I could pick a day that would work best for me. The package was waiting on the doorstep the day it arrived, so I didn't have to be home to receive the box.
All my ingredients arrived in the same Chef'd cooler box, but the ingredients for the different recipes were in separate packaging for easy prep time. I also received ingredients for overnight oats as a special offer, which was a fun surprise! In addition to all of the food that for the most part was pre-portioned, Chef'd also included step-by-step instructions with pictures that were printed on cardstock that held up in the kitchen.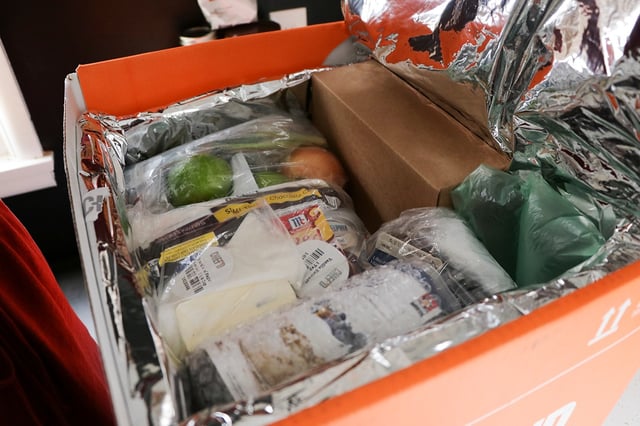 3. Preparing the Meal
I made the dessert first knowing it would take longer to bake than the Pad Thai. The first regrettable decision was looking at the batter and deciding there was no way the batter would fill a 9X13. Instead, I used a 9X9, and the batter had very little room to grow in the oven.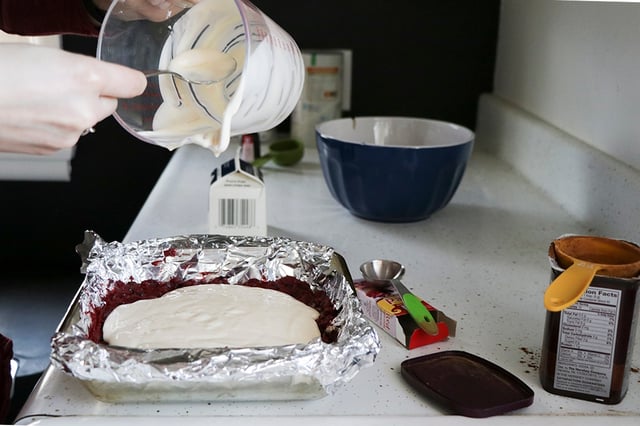 As with any baking recipe, finesse and precision are the names of the game, so following the instructions was rule number one (don't make the same mistake I did!). There were a few moving parts with this recipe, and keeping them all straight could pose a challenge. Thankfully, the instructions did a good job laying out each step.
After placing the squares in the oven, I got to work on the Weeknight Chicken Pad Thai. This dish had a little bit more prep work seeing as I had to cut up onion, garlic, green onions, cilantro, and lime, but once everything was chopped, the Pad Thai came together quickly.

I have always relied on take-out for good Pad Thai, so it was exciting to be making this easy recipe at home. Now, I had a wok that I was able to use, but a large sauté pan would have worked just fine.
4. Digging In
First off, Chef'd added pairing suggestions to the recipe cards, so after pouring the recommended chilled Sauvignon Blanc, we were ready to dig in. I'm not a fan of overly spicy things, so I was a little concerned about the heat the sriracha would bring, but one bite in and I appreciated the smoky flavor it gave the chicken. I'm not going to lie, when I was making the dish, and I was cutting up the one chicken breast from the package, I wondered if it would be enough food for two people. After diving in, though, I could tell the portions were perfect and satisfying, but we still had room for the red velvet cream cheese squares!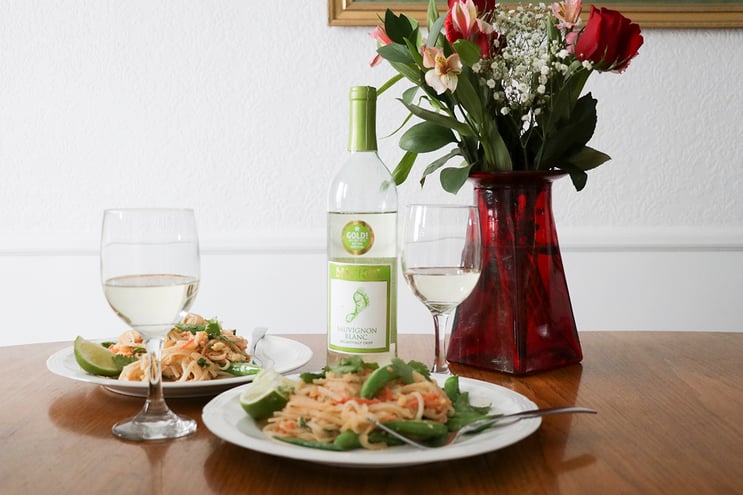 The cheesecake squares didn't set up quite like I would have liked. They look a bit like a brownie in the instructions Chef'd provided, but they were a cakier consistency probably because I used a smaller baking dish than Chef'd suggested. They still had the red velvetiness and tanginess I craved, though, so all in all, these squares are definitely worth another try in a bigger pan.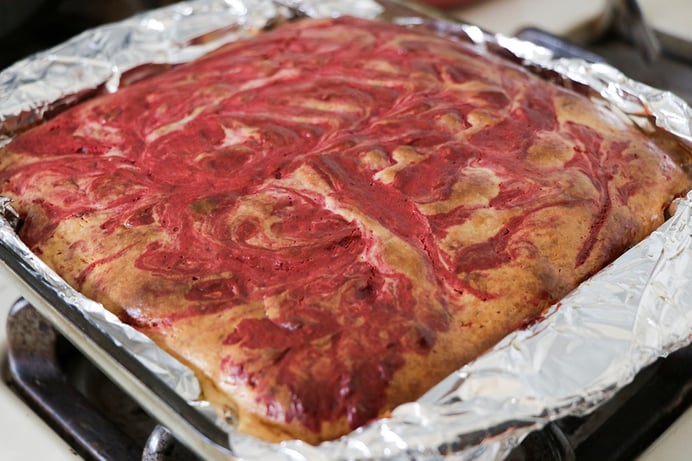 5. What I Learned
The most important thing I learned: follow the professionals who created these recipes. Baking is one of those things where you don't want to go off-script, so not using a 9x13 pan wasn't a strong start on my part. That said, even though the cheesecake squares didn't set up correctly, they were still delicious in their goopy state.
It's easy to be a (relatively) gourmet chef with the help of Chef'd. I for one am all for a Valentine's Day date where I can have sweatpants on while eating restaurant-quality food with my sweetheart, and Chef'd brings the feelings of going out to eat home. Plus, you both can work together in the kitchen, which is always a fun activity.
Once you're done cooking, hang onto these recipe cards. I put both of these recipes in my collection so I can make them whenever after a quick trip to the store. That's the neat thing about Chef'd: it's a system where you can try new meals without having to stock your pantry with some of the more exotic ingredients you'll only use a tablespoon of.
In my book, Chef'd is a winner for a Valentine's Day meal for the love of your life, and it's a no-brainer if you are a part of a scrip fundraiser where you can earn 10% for your organization. If you want to give Chef'd a try put an order in today and whisk your Valentine off their feet!
Next Steps:
Looking for other date night ideas? We have tons of other Valentine's Day ideas on Pinterest!
I used scrip to pay for this meal and earned 10%. If that sounds awesome to you, give scrip fundraising a try!