Raising Money with Gift Cards: The best complementary school fundraiser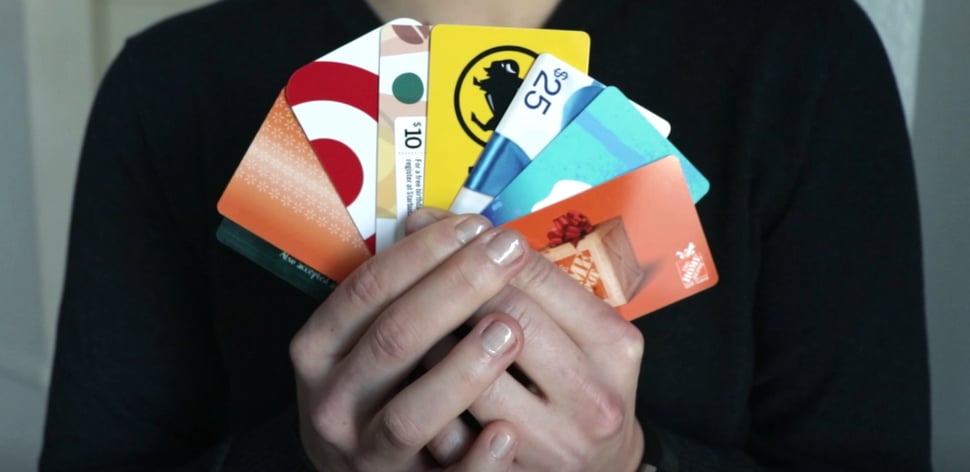 How many times have you fallen victim to the phrase, "Cannot be combined with other offers"? Honestly, it can be a little bit frustrating when you can't save as much money as you intended. There is, however, a payment method that allows you to take advantage of other earnings from coupons and store sales: paying with gift cards.
These aren't your regular gift cards; technically they're called scrip. They are the same gift cards you can get straight from the retailer to give as presents, except you purchase them through ShopWithScrip to use for your personal spending and you earn a rebate percentage for your school.
If your school is in desperate need of fundraising, scrip is the perfect fundraising idea. To be fair, your school might not bring in $1,000 in the first few weeks with gift cards like you could with other product fundraisers, but you're also not stressing out families. Scrip is a sustainable school fundraiser as families can purchase gift cards all year long, building up rebate earnings just by paying for their everyday purchases with a gift card.
Although a family who uses scrip routinely on their expenses can raise the upwards of $1,000 in a year, your school might need a bigger, faster boost in fundraising. If you still want to avoid the chaos of a product fundraiser, you can do that. Start a scrip fundraiser that will fit seamlessly into families' lives and plan other relatively simple fundraisers that can bring in more funds quickly. Not sure where to start? Here are some ideas.
Paying for a Restaurant Night Fundraiser
Restaurant fundraising is the unsung hero of school fundraising events. Unlike auctions or galas that take a ton of planning, a restaurant night is a fundraising event that is easy to set up. The process entails applying on the restaurant website and then setting up the logistics with the restaurant manager. Then you have to advertise the fundraiser so you can get as many families as possible in the restaurant to maximize what your school earns.
What family would say no to a fundraiser where all they have to do is bring their family out to eat, and a percentage of their bill goes directly to their school? Plus they'll be thankful to have a break from cooking dinner one night of the week.
If you're also running a scrip fundraiser, you can double down with a restaurant fundraiser. ShopWithScrip offers over 200 casual dining retailers, most of whom allow for restaurant fundraisers. With that in mind, families can order gift cards to pay for their dinner on the restaurant night and earn twice: once on the gift card purchase and once from the restaurant!
Earn More During Fundraising Events
These events take a bit more planning and work than a restaurant fundraiser, but the payoff of having a bake sale, spaghetti dinner, or pancake breakfast could be well worth the extra effort. You might be wondering how you'd use gift cards in these scenarios, but it's very simple: buy your ingredients with a grocery gift card.
One of the easiest ways to raise money with scrip is to use it on your everyday staples, like gas and groceries. So why not use it to purchase all of the ingredients for your fundraiser, or the pre-packaged cookies and cupcakes that will taste just as good at your bake sale?
Purchase grocery gift cards and encourage parents to buy ingredients they need for the school bake sale with the card. Using the gift card is a great way to introduce scrip fundraising to families in your school, and once they try using scrip once, they'll want to continue using it!
School Prizes can Bring in Money
Take a minute to think about how many gift baskets you've put together for a teacher or a school event like an auction. The beauty of a gift basket is that there are so many different themes you can create so they never get boring, but they can set you back a few dollars.
Luckily, you can use a gift card to buy all of the goodies you put in the baskets, plus you could put a card in the basket too so that the winner can splurge on themselves. It might feel like you're spending a lot, but you'll be raising money for your school on every gift basket purchase at the same time.
How to Get Started
Scrip is an easy complementary fundraiser you can run alongside other events. Before you get started on any of these fundraisers, though, a key thing to keep in mind is that every scrip fundraiser has a coordinator who has to run the program. You'll need to make sure they are on the same page as whoever is in charge of the other fundraisers to maximize the earning potential for your school. If you're interested in becoming the scrip coordinator, check out this quick video that shows you the ins and outs of running a program:
Sometimes two fundraisers are better than one, especially when one fits with your lifestyle pretty effortlessly. Keep all of these things in mind whether you're planning an end of the school year fundraiser or prepping for next year and your school will thank you.
Next Steps: