5 Ways to Vacation on a Budget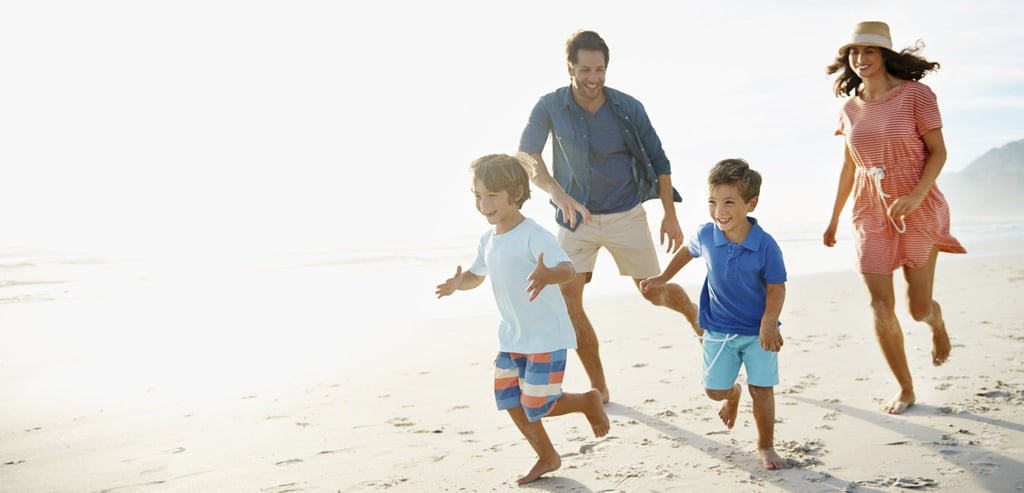 The kids' beloved multi-month break from school is rapidly passing by, and you might be feeling the crunch to enjoy summer vacation and take a trip. Contrary to popular belief, not everyone plans a big getaway for the summer months. In fact, according to a poll, only 46% of Americans were planning on taking a vacation this summer. Many are afraid of splurging on a vacation, while others willingly take on credit card debt just to pay for a trip, knowing they will be paying it off for months.
There is a middle-ground between these two ends. Whether you're in the 54% group of people who haven't planned a vacation, or if you just want to keep to your budget, a vacation doesn't have to put a strain on your wallet. So don't rule out a trip just yet, we've got some tips for vacationing on a budget.
1. Vacation Somewhere Less Traveled
While they might be your go-to, you'll want to forego the classic beach or resort vacation. One of the easiest ways to cut cost on your vacation is to choose a destination less traveled. Do you have a list of cities you've always wanted to visit? Now is the time to take the family and go exploring. AARP put together a list of 10 US cities you can visit on a budget that have tons to offer.
If your family is full of nature-enthusiasts, branch out and go on a camping trip. Camping offers the perfect balance of peaceful rest and fun activities, and a chance to unplug from everything. Plus campgrounds are often very reasonably priced- perfect for your budget! Rent a pop-up camper or set up cozy tents and venture out and explore. Camping doesn't have to be considered "roughing it." Incorporate some of these tips and tricks to make this an awesome, cheap vacation idea.
2. Have a Plan
Once you've picked your destination, do some thorough research. A bulk of vacation costs comes from travel, so see if it makes sense to fly, or if it's cheaper to drive even if your destination is far away. Keep in mind that the road trip is a part of the vacation fun if you're well-equipped.
If you do decide to drive, it's always a good idea to plan out some stops to get out of the car and stretch! Make sure you pack your own snacks beforehand, this will save you money that you don't have to spend on pricey gas station food.
Gauge how much you'll potentially be spending on eating out by looking at different restaurants in your destination. Also look for grocery stores so you can pick up items for breakfasts, lunches, and snacks to save money, and your appetite, for a nice dinner.
3. Lay out Your Budget
It can be easy to reach your destination and forget all about your budget, but don't! Your wallet will thank you if you keep your finances in check while on vacation. One great way to stick to a budget is using the envelope system. Have a rough idea of how much you want to be spending on food, entertainment, and souvenirs, and take that much money out. Divide it into envelopes, and once it's gone, it's gone. This is a tried-and-true budgeting method for your everyday life, so it makes sense to take it with you on your summer vacation.
If you don't want to commit to the full-blown envelope system, follow this tip instead: pay with cash when you can. It's simple to put everything on your credit card when you're on vacation, but that could lead to a surprising bill awaiting you when you return.
We know it's the summer and school's out, but we'd be remiss to not mention a fundraising opportunity that lets you budget and raise money for your organization: scrip fundraising! With scrip, you purchase gift cards for all of the places you're going and your organization earns a rebate for every card purchased, roughly somewhere between 3 and 15% depending on the retailer. Then you use these gift cards instead of credit or debit.
Scrip gift cards are dedicated dollars that will help you stick to your budget, and you'll be raising money at the same time. Through a vendor like Great Lakes Scrip Center, you can use scrip for essentially every aspect of your vacation. We have scrip for hotels, air fare, rental cars, gas stations, fast food options, sit-down chains, and we even offer a couple cruise lines if you want to take your vacation to sea.
4. Mini Vacation
If you can't settle on a destination or make it work either financially or with your time, consider a mini vacation. These can range from day trips, to a short weekend excursion, and they can be just as fun as a long vacation without all of the expenses! Check out this list of mini vacation ideas for every single state as a jumping-off point for your mini vacation planning.
A good option for a mini vacation is going to see the grandparents if they're within driving distance. You'll have quality family time and you can go venturing around their town. You'll also save on hotel expenses and you might even get a kid-free date night!
Another way to save money, but also get a taste of a vacation, is to go on shorter day trips. There are probably beautiful parks and lakes only a few hours from your house. Do some investigating, then load up the car, leave bright and early, and spend the entire day away. The best part about a day trip? No hotels or packing and unpacking- that's a win!
5. Staycation
A new vacation option that is growing in popularity is the staycation. Essentially, you just stay at home but you leave everyday life behind. According to Popsugar, the number one rule of a staycation is what you wouldn't do on a vacation, don't do on a staycation. That means no household projects, no laundry, no cooking. While it might seem weird to not do these normal activities when you are staying at home, the point of a vacation is to de-stress, so don't do them!
Staycations are the cheapest way to vacation, and they are the least stressful because there's no planning involved! And best of all, there's no packing for unpredictable weather because your whole closet is your suitcase.
There are tons of ways to make staycations fun, just make a list of all the things you want to do in your city and cross them off. Have you been eyeing a new restaurant? Try it out! Do the kids want to go to a museum exhibit? Take them! It's also completely fine to just stay at home and partake in a few fun outdoor activities with your kids- it's your staycation!
Vacations don't have to cost an arm and a leg. Just figure out what's right for your budget and get to the most important part: spending time with your family!
Next Steps:
Subscribe to our blog for more budgeting tips.
Follow us on Pinterest for more summer fun

ideas.