Monthly Opportunities to Boost Earnings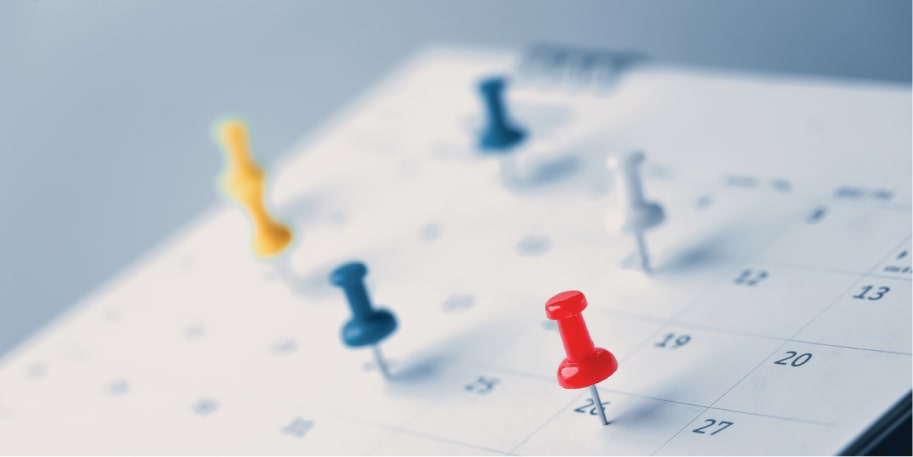 Did you know? As a participant, you can earn over $1,000 every year for your organization simply by using gift cards in place of cash or credit cards to pay for everyday expenses. The earning potential is endless!
To help you get in the habit of using gift cards (and inspire some fun purchases along the way), consider these monthly occasions, holidays, and celebrations as your starting point in identifying opportunities to shop with gift cards.
JANUARY
New Year's Resolutions
A new year means new goals—and new opportunities to earn. And while you're in the mindset of developing healthy habits like exercising, reading, or cooking more, you can also get in the habit of using gift cards to pay for everyday expenses. Start by giving yourself some extra motivation to make those new year's resolutions last.
Check out gift card categories like Grocery, Books, and Sporting Goods & Outdoors for brands that will support your health, reading, and fitness goals.
FEBRUARY
Valentine's Day
Fun fact: Last year, consumers spent $23.9 billion on Valentine's Day gifts for partners, friends, pets, and more [Source: National Retail Federation]. If you're planning to show some love to those who mean the most to you with gifts, flowers, dinner and a movie, or even a quiet night in, making your purchases with gift cards can also show some love to your organization.
See brands like See's Candies, Hallmark, Shari's Berries, Fandango, DoorDash, and Instacart.
MARCH
Spring Cleaning
Time to get the household "to do" list in order! First item on the list: Get gift cards to use as payment for cleaning and organization supplies. Whether it's scrubbing every square inch of the house, organizing a cluttered closet (or two), or finally getting those home improvement projects underway, earning makes your hard work all the more rewarding.
Suggested Brands: The Home Depot, The Container Store, Bed Bath & Beyond, CVS, and HomeGoods.
APRIL
Spring Break
If you're celebrating Easter, planning a quick getaway, or simply taking the time to practice some self-care, remember that your extra time off brings extra opportunities to earn with gift cards. (Pro Tip: Keep an eye out for our weekly bonus opportunities, when brands offer extra earnings for a limited time!)
Suggested Brands: Groupon, Bath & Body Works, Disney, Dave & Buster's, Uber, and Airbnb.
MAY
Graduation & Teacher Appreciation
Need a gift for a graduate, a teacher, or both? Gift cards make great gifts—but they can also buy great gifts, and so much more. Booking a reservation for a graduation dinner? Use a gift card to pay the restaurant bill. Hosting a graduation party? Buy snacks and supplies with gift cards. Every expense is an opportunity to earn.
Explore gift cards from categories like Gifts & Flowers, Tech & Electronics, Restaurants, and Online Shopping.
JUNE
Summer Travel
Whether it's a weekend away, an epic international adventure, or a quiet day at the beach, earn on all your summer excursions by using gift cards for flights, hotels, gas, ride sharing, restaurants, theme parks & attractions, and more.
Visit our Travel category for gift cards with up to 25% in earnings!
JULY
Independence Day
Planning the ultimate Fourth of July BBQ cookout? Get a head start by reloading your grocery gift card, and don't forget that you can pay for decorations, games, and outdoor equipment using gift cards, too! Explore categories like "Grocery," "Department Store," and even "Sporting Goods & Outdoor" to earn on every aspect of your favorite summer activities. (Pro Tip: Use reloadable gift cards on recurring purchases like groceries—you can track the gift card balances in your Wallet and add funds anywhere, anytime.)
Suggested Brands: Whole Foods Market, Safeway, Albertsons, Giant Eagle, Fresh Thyme Market, Marshalls, and Bass Pro Shops.
AUGUST
Back-to-School
Putting "Gift Cards" at the top of your Back-to-School shopping list will help you remember that you can earn on purchases for books, backpacks, new clothes, and more. (Pro Tip: Can't find the specific brand you're looking for? Visit the Universal Prepaid Cards category for general-purpose gift cards with no activation fees.)
Shop gift cards from additional categories like Children & Teens, Clothing & Accessories, Books, School Uniforms, and Office & School Supplies.
SEPTEMBER
Labor Day
Earn more than just a long weekend by using gift cards to pay for picnics, pool parties, or parade supplies! However you plan to celebrate, remember to use gift cards to pay for groceries, swim attire, camping supplies, or any other necessities.
Suggested Brands: Walmart, Dick's Sporting Goods, Meijer, Cabela's, and Shell.
OCTOBER
Halloween
Last year, Halloween spending reached a record $10.6 billion (Source: National Retail Federation). From costumes and candy to party decorations, pumpkin carving, and scary movies, don't be afraid to earn on every expense.
Suggested Brands: Target, Amazon, Walgreens, Michaels, Hulu, AMC, and Fandango.
NOVEMBER
Thanksgiving, Black Friday, Cyber Monday
Earn on your grocery bill for the year's ultimate meal prep holiday! While you're at it, don't forget to also stock up on gift cards (or eGift cards) to use as payment for all the Black Friday, Small Business Saturday, and Cyber Monday deals. There's nothing better than earning while saving at the same time.
Browse brands from categories like Grocery, Tech & Electronics, Online Shopping, Streaming & Gaming, and Department Store.
DECEMBER
Holidays
Sure, gift cards make great gifts, but they are also so much more than that! Use gift cards to pay for actual presents and stocking stuffers, wrapping materials, holiday decorations, and even your holiday travel. (Pro Tip: Use the Send as a gift by email option to send eGift cards to recipients as last-minute gifts!)
Suggested Brands: Visa, Michaels, Delta Air Lines, Starbucks, GAP, GameStop, and Apple.
Browse all available gift cards on RaiseRight.com or the RaiseRight mobile app—shop by category, favorite your go-to brands, and buy gift cards in whatever format best supports your shopping needs.