7 Side Hustles for Busy Parents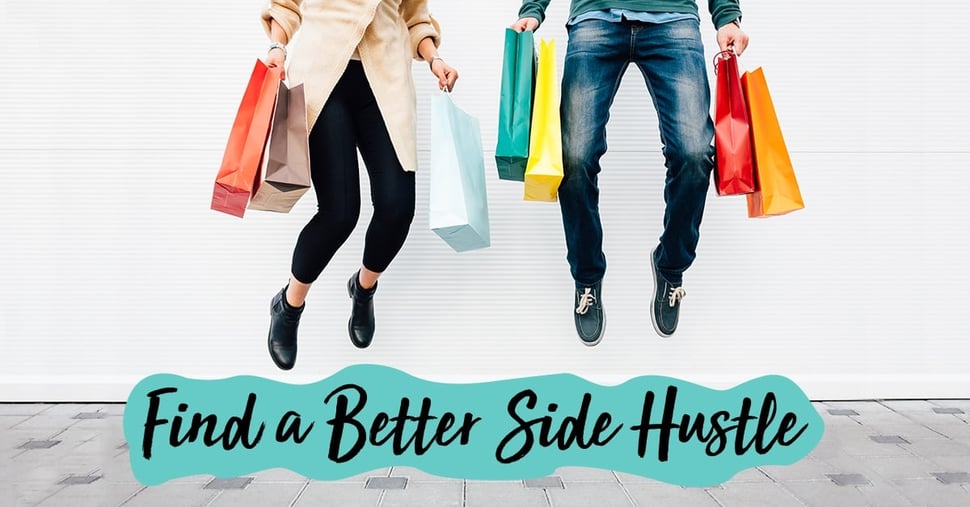 Have you heard of the term "side hustle" before? It's likely that you have, since saving money and making money always seem to be hot topics, especially at the start of a new year. Whether you work full time or you're a stay-at-home parent, side hustles are a way to boost your monthly income so you can save up for that house or car, add more money to your kid's college tuition or your retirement, build emergency funds, or just have a little extra to spend.
Before you say, "Well, I have a house full of kids, how will I find time for this stuff?" keep in mind that a side hustle isn't a part-time job. They're more flexible than that, and they might not even feel like work if you start a side hustle around your hobby or something you enjoy doing. You could even have multiple side hustles running at once ranging from online gigs to routine activities. Side hustles are all about maximizing your time so you can maximize your money, and it's all on your schedule.
If you go onto Pinterest, you'll find tons of posts on side hustles, which can be a little overwhelming to sort through. That's why we put together a more comprehensive list of seven great side hustles for busy parents!
1. Sell Your Unused Items
A garage sale is a side hustle that has withstood the test of time, but now there are significantly more options than just a garage sale. Nowadays there are apps and Facebook Groups where you can connect with people in your community and sell items you're not using anymore.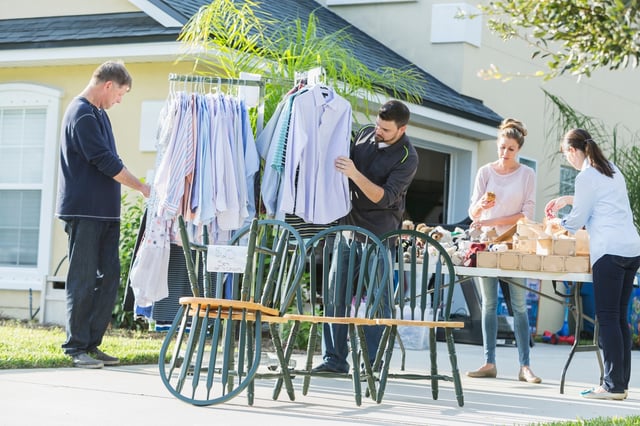 Think old books, children's clothes or nursery supplies, old kitchen supplies, or even your wedding dress! Instead of letting these things sit and collect dust and clutter up your house, give them to someone who actually would use them. Of course, if items don't sell, consider bringing your items to Goodwill or Salvation Army. Keep in mind, when you donate, you can claim a charitable deduction on your taxes.
2. Flipping or DIY-ing Items
Garage sales aren't just a great opportunity to sell your items; they're also great for buying pieces of furniture, art, or any other knick-knacks. After you've collected some nifty items, you can refurbish them and give them some TLC. Then you can turn around and flip them!
If you're a very crafty and creative person, devote some time to creating original pieces. You can sell jewelry and accessories, a myriad of home décor, and any art you create on sites like Etsy all at your pace.
3. Get Rewarded for Shopping
Earning rewards while you shop might be one of the easiest ways to make a little extra money. This option isn't as lucrative as some of the other side hustles, but it's a passive way to make or save more money on the things you're already buying.
There are a few apps or website extensions you can start using today. If you're a big online shopper, add Honey to your routine. Honey filters through all of the applicable promo codes available at a certain online retailer to ensure you get the best deal and save the most money. On top of that, you can also earn Honey Gold, which is their membership reward system that gives you money back after you reach 1,000 Gold, which is $10.
Want to earn cash back on things you buy every week like groceries? Download the Ibotta app on your phone. With Ibotta, you select the store you shop at, and you'll see rebates for different products you might buy. Add them to your offers, then after your shopping trip, take a picture of your receipt in the app, check off the products you bought that applied, and redeem your rebates.
4. Shopping with Gift Cards
You can double down on both Honey and Ibotta and earn rebates by using physical gift cards or eCards when you shop. Technically speaking, this side hustle is called scrip, and it's the best way to raise money for your kids' school or extracurricular activities, your church or religious organization, or a nonprofit you are passionate about. If you need to raise funds, scrip is the only way to make money out of money.
Fundraising is not fun. And many times, parents will just avoid a fundraiser altogether and send in a check. But if you send in a check, you are out the money! What if you could keep that money in your checkbook and earn that amount instead in the matter of a few months just by paying for your everyday purchases with gift cards? Plus, some organizations set up their program so some rebate earnings go back to the family.
5. Driving for Uber or Lyft
It might sound a little crazy to drive for a ride-hailing service but just think about all of the downtime you have throughout the day. You might have time when you're waiting to pick up the kids from school, sports practices, music lessons, or a friend's house.
Instead of driving all the way back home, you could become an Uber or Lyft driver during these odd in-between times and make some good spending money! The best part about this side hustle is you decide when and who you want to pick up and it's on your availability. Just going on a few drives a day could bring in a good chunk of change.
6. Handyman and Odd Jobs
Have a knack for home improvement? You'd be surprised at what people are willing to pay for odd jobs that require a little handiwork. It's not hard to find these opportunities either when you download the Task Rabbit app.
Are you more into cleaning and doing laundry? Spoiler alert: a select few people thoroughly enjoy both of these activities. If you can find time in your schedule, you could assemble supplies and set a pay scale for your cleaning and laundry services. Do some light marketing to your Facebook friends, and you'll be bringing in some money in no-time.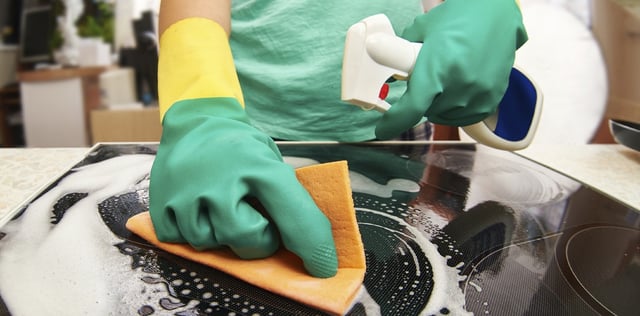 7. Become a Freelancer
If you have some neat technical or creative skills, freelance! Everybody is trying to be as efficient as possible at work, and that means they might hire out work to get a job done quickly. People are always looking for blog contributions, editors, and even ghostwriters. You can even sell your photos on stock photo websites.
There are tons of sites out there where you can apply for different freelance opportunities that fit your resume. Check them out and start working on your clock, and remember, the bigger your portfolio, the bigger the pay.
Obviously, this is just the tip of the iceberg when it comes to side hustles. Maybe you're into personal training or giving music lessons. Whatever your hobby is, there is probably some angle you can take to make it profitable. Happy side hustling!
Next Steps:
Already have a side hustle going? Tell us about it in the comments below!

If you have a need to raise money, download this Info Kit to see how scrip can help.