Supporting Experiences Outside of the Classroom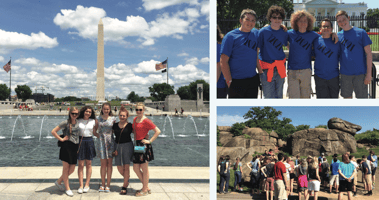 At Discovery Middle School, the eighth graders conclude their U.S. History class each year by taking a field trip to Washington, D.C. and Gettysburg, Pennsylvania. The week-long trip for students comes at a $900 price tag for families. Fortunately, families have been using gift card fundraising to help ease the financial burden—and several pay for the trip entirely from their gift card earnings.
"I cannot express enough how much I love school fundraising with gift cards. I've paid for half of a Europe trip with ShopWithScrip, as well as three of my four kids' D.C. trips—it works."


–Dana, program participant
Once a family raises funds for their child's trip, their excess funds are directed toward a Trip Scholarship Fund. This general fund provides financial assistance to help other families pay for the trip. Families can also use the program to raise money for the school's biennial trips to Europe and China—further helping to make travel and experienced learning part of the curriculum.