Choosing the Perfect PTA Fundraiser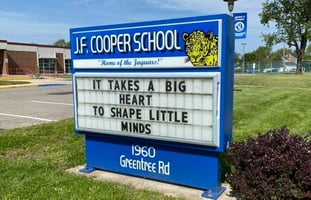 The PTA at J.F. Cooper Elementary School in New Jersey was searching for a fundraising program that's relevant to families. Something that's easy, less time consuming, and fits right into their busy schedules. Something everyone can feel good about doing—no matter how much money they're able to contribute. The PTA also wanted to move away from selling edible items because it excludes people with food allergies or sensitivities.
Now, the school uses gift card fundraising because it checks all the boxes. Parents don't have to do anything they aren't already doing and students aren't asked to be sales people. It only takes parents a few seconds while they're waiting in line at the grocery store, eating at a restaurant, or standing at the gas pump.

"Gift card fundraising is like getting free money for our school. Families shop at stores they always do using the full value of their gift cards, and earn for our school on top of it. It's so easy to participate and the return makes a huge impact! I encourage every PTA to do it."

-Shazia, PTA president
Thanks to the program, the school has funded science and character education assemblies, school grants, a large selection of materials and games for indoor recess, and a visit from the author and poet, Janet Wong.