Get Your Marching Band Funds into High Step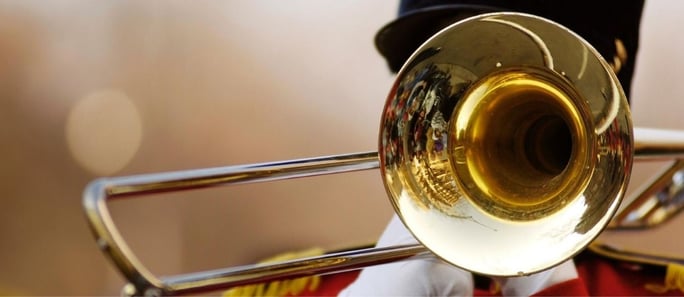 Marching bands need to cover the costs of competitions, parades, uniforms, instruments, and band fees. And to make matters worse, your marching band fundraiser will likely compete with PTO and sports teams for parents' time and money.
It can be frustrating to vie for time when band parents are already spread pretty thin. Fundraising aside, band parents are already busy setting up snacks after halftime shows, shuttling kids back and forth to band camp, and making sure their kids are practicing. Meanwhile, those involved with the the booster club are busy making sure that the band is accessible for all students.
Types of Band Fundraisers
To be successful, a music booster club needs a solid fundraising plan. One of the first things you'll need to identify is which fundraising events make sense for your band. Below are a few ideas to consider:
Work the concession stand at a school sporting event. Schools are always looking for volunteers to run concession stands during football, basketball, and volleyball games. Have some parents lend a hand and raise money for the band.
Host a competition.

It takes some organizing, but hosting a solo and ensemble event or a state competition is a great way to raise funds as your band will receive a portion of every contestants' entrance fee.

Hold a March-a-thon.

Take a walk-a-thon and add music! Plan a route and have the band play and march through neighborhoods. Advertise in advance and ask for donations from the community.

Put on a cabaret night.

Let the kids ditch the uniforms and put on something nice. Have them recruit friends from orchestra and choir to put on a night of entertainment. Sell tickets and ask for local vendors and businesses to donate food for a dinner and a show that will benefit your band.

Scrip fundraising.

Families can earn rebates by making their everyday purchases with scrip gift cards, and the earnings can go towards their band fees. This no-selling program will go a long way to relieve any fundraising fatigue from your other events.
Best Advice on Band Fundraising
Chris Zygmunt, president of the Plymouth-Canton Educational Park music booster club in Michigan, is an experienced band fundraiser who has acquired some tricks of the trade. When we interviewed him, Chris was working on raising money for the Plymouth-Canton Marching Band's trip to the Rose Bowl Parade. We picked his brain for a few tips on raising money for your band:
High-Impact, Low-Effort: "The keys we look for in creating new fundraisers are high-impact, low-effort: how can we make the most money for the least number of volunteer hours? We also look for fundraisers that raise money from outside of the band family. Band member fees already contribute a lot to the budget so we try to pull in money from other sources."
Corporate Sponsorship: "We've tried to step up our corporate sponsorship over the last couple years as it gives us the biggest bang for the buck. The key here is to tap into the band membership for contacts at local businesses that we can talk to about being a sponsor. We have far greater success when there are personal contacts like that. You obviously have to offer something in return for the sponsorship so we make sure we promote sponsors through ads in programs, banners, logos on our band semi-trailer, etc."
Create a Brand Name: "For large fundraisers, you almost have to create a brand name, which can take several years to cultivate. Our craft shows are extremely successful and vendors really like to attend them because we've spent years differentiating our show from others. For instance, ours is the only show in the area that provides students to help vendors load and unload their vehicles. Vendors really like this and keep returning every year because of it."
Start Small and Grow Your Idea: "If you think you have a good idea, it may take years to grow it into something really profitable. As an example, this year we tried our first golf outing and kept it very small and low key. The response was amazing and it quickly filled up. Now, each year, we will try to add features to the outing and try to grow it into a much larger fundraiser."
Incorporate Chris' advice into your band fundraising and your earnings will be music to your ears.
Next Steps: