Coping with the Summer Slump at Church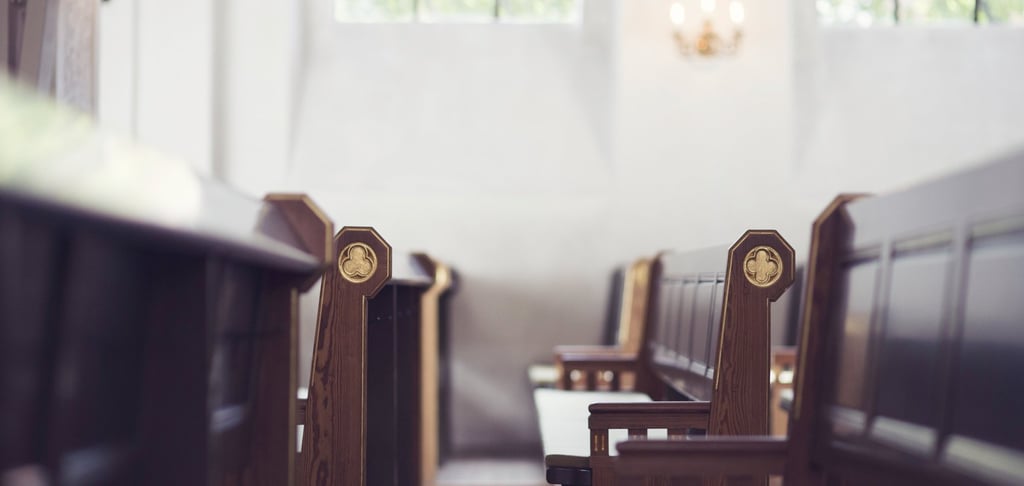 The summer slump. There's no doubt your church has experienced this or is in the midst of one right now. As August approaches, the less-crowded pews have become the norm as families are traveling and vacationing almost every weekend.
Because some families haven't been in attendance on Sunday, your tithing might have taken a small hit. So although you've enjoyed the rest and relaxation summer provides, you might be hoping for school to be back in session so your church can get back on a schedule.
There are still a few weeks of summer left, though. How are you going to cope and combat the slump until you get back on a normal schedule? We've got a few ideas.
Work on Your Church Website
Does your church have a website? If it doesn't, spend this slower time at the end of summer to start piecing one together. Even if your church is on the smaller side, it's a good idea to have an online representation.
The church resource website, The Network, laid out four key reasons why you need a website:
Online presence is your church's first impression. New or potential visitors will check out your church online before coming to a service to see if it's the right fit for them. If there's no website, that might be a red flag.
You have full control over a website.

Your church might have a Facebook page, which is great, but Facebook's algorithms are constantly changing, meaning your posts might not be seen organically. Having a website where you control the content is key.

Bulletins don't make it home.

Churches spend a good amount of time putting together a weekly bulletin. While members of the congregation read them at church, bulletins rarely make it home. Post church news and bulletins online so families can access them whenever.

It's a basic expectation.

Much like the first reason, in this day and age of digital technology, every reputable church should have a

good website

. You want to give new visitors every reason to attend your church and having a website will certainly help. If you're stumped on what content to include on your website, take a look at

this post

.
Online Giving
A large side effect of a summer slump is a decrease in tithes. Make sure you're giving your congregation every chance to tithe by incorporating an online giving solution. The beauty of online giving is its flexibility. Members of the congregation can give whenever it's convenient for them, not just during the passing of the offering plate.
While incorporating online giving can seem overwhelming, if you take the time to explain it, your congregation will be able to catch on. Some online giving software will even allow for recurring tithes to come out of a bank account automatically. You can also set up a system so members of the congregation can text an amount to give whenever they want.
Stay Connected on Facebook
Keeping up on Facebook is key during the summer slump. Your congregation members will probably be on Facebook, so stay connected and post about any church news, like bible study information or small group updates, or whatever is happening at the church.
If your church is capable, record certain segments of the sermon to post on Facebook. That way, those in the congregation who might have missed the service can catch a glimpse. Plus it's a great way to keep instilling the message of the sermon all week long.
Focus on Outreach
Facebook can be used for outreach too. If some of your regular attendees are away every weekend, take this opportunity to branch out into the community and bring in some new faces. Set up a fun, family-friendly activity for a weeknight. A popular, low-cost option is having a movie night, which you can advertise on both Facebook and by posting door hangers or flyers around town.
You can also focus on community building activities, like holding a food drive for a few weeks. Any idea you can think of to bring the community together and get your church's name out there is a good start for outreach.
Analyze Church Finances
Take some time and analyze the church's finances. This way, you can see what's lacking, and then, by the time school rolls around and your congregation is back, you can update them on how much money the church needs.
From there, you can ramp up your fundraising efforts, or create a couple weekends for a special tithe where families give more than normal. It's easier for a congregation member to give if they know the church is in need, so give them concrete numbers to help your church budget.
Hold a Scrip Fundraiser
If you're feeling like the money has been tight these past couple months, or you've got a quota to meet to keep the church budget in check, consider running a fundraiser. While there are tons of fundraising ideas, keep in mind that things like bake sales and pancake breakfasts take a lot of volunteer help and time. However, there is a fundraising option that doesn't require extra time or money, and that's easy to get started: scrip!
Watch this video and see how scrip fundraising can work for your church:
Your congregation will order and pay for gift cards at face value. Your church gets the cards for a discounted price, though, and the difference in cost is instant earnings for your church. Then, they'll use the gift card on their everyday purchases instead of credit or debit- that's it!
Unlike other fundraisers, scrip is habit forming, which makes it easy to run year-round. While the rebate earnings for each card are on the smaller side (typically between 3 and 15%) they add up quickly. In a year, a family can raise $600-1,000 by using scrip on their everyday purchases, which is good news for your church budget!
Don't let the last month of summer pass you by. If you follow some of these ideas to cope with the summer slump, your church may be bringing in more new faces and tithes come fall!
Next Steps: