1. Update Your Organization's Information
Keep your organization's profile current by making any necessary updates within your Coordinator Dashboard. This may include updates to your organization's name, contact information, or payment settings.
Did your program change coordinators? If your program has a new coordinator, you can change coordinators within your organization's profile if you have access to the existing coordinator account and the person taking over as the new coordinator has an existing, online account created with your organization. If you have an organization PIN, make sure to pass it on to the new coordinator.
1. Sign into the coordinator account
Sign into the coordinator account and update your organization's Profile under Account Settings. This is the name that is displayed to your organization participants on their Dashboard.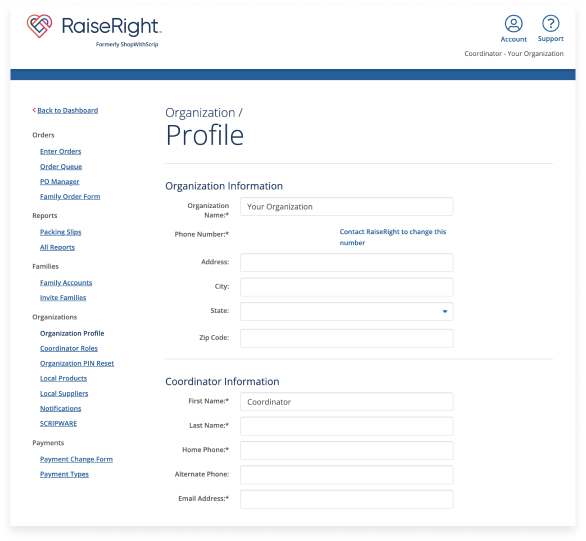 2. Navigate to Coordinator Functions
Navigate to Coordinator Functions > Coordinator Roles, located on your Dashboard. Click CHANGE COORDINATOR to select the new account you would like to assign with the coordinator functions.
When you log out, you can start using the new coordinator account moving forward.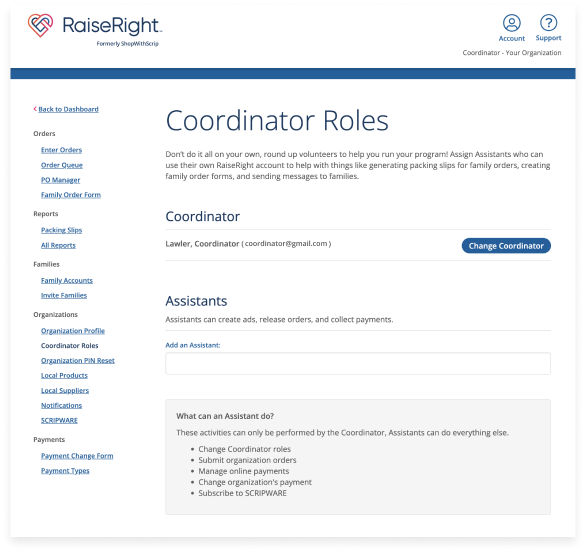 If you don't have access to the current coordinator account, please send a coordinator change request on your organization's letterhead to [email protected]. Be sure to include all contact information for the new coordinator.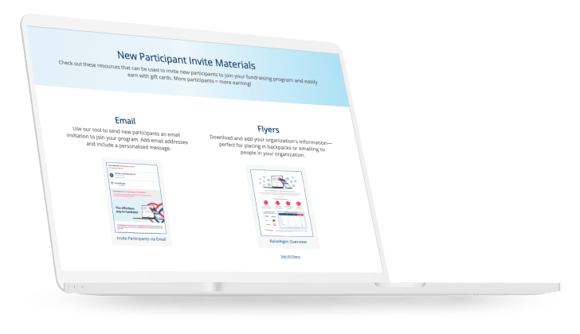 2. Invite New Families to Join Your Organization
More participants = more earning! Visit our Invite Resource page to find materials that make inviting participants to join your program quick and easy. You'll find ready-made flyers and images, plus a messaging template, tutorial web page, and video. With the email invite tool, you can send personalized email invitations to multiple participants all at once!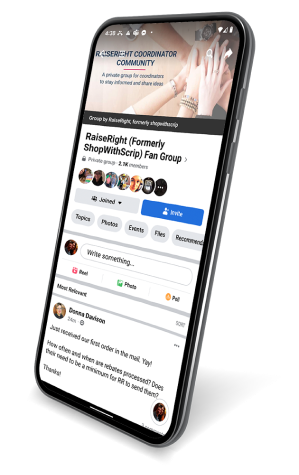 3. Connect with Coordinators in our Facebook Fan Group
Join our exclusive Facebook community for coordinators to collaborate, share tips for fundraising success, get product updates, and more.
You can also encourage your participants to follow our public Facebook page where they'll get the latest on bonuses, news, brand offerings, and more.
Have Questions?
For account or ordering questions, please contact Customer Support: