Holiday Fundraising Ideas for Your Organization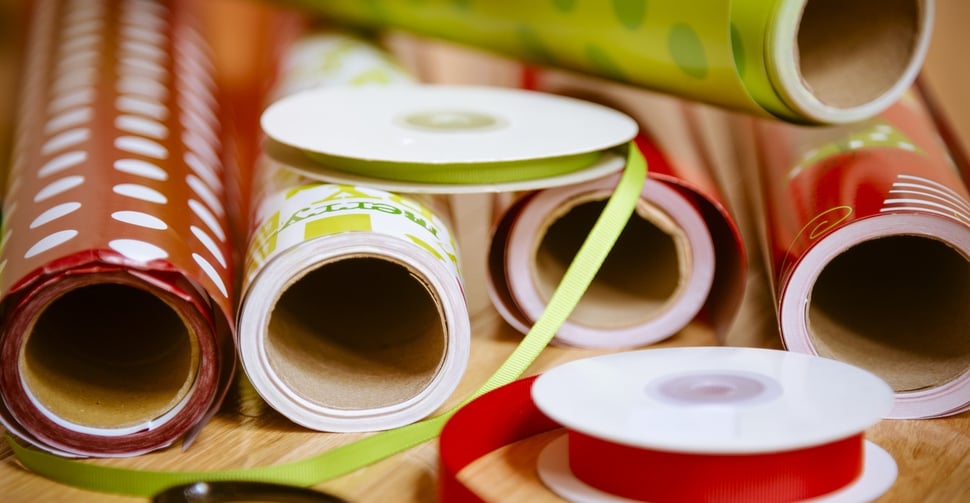 October is upon us, and while we should be thinking about Halloween, we've got our sights on Holiday fundraising already! It might seem early, but now is the time to plan any fundraising activity for the Thanksgiving, Hanukkah, and Christmas season.
When the holidays roll around, one-time fundraisers are the name of the game. And why? People are feeling charitable and generous during this season. In fact, one-third of annual giving happens in December, and chances are, people would be willing to help organizations raise money by purchasing useful products too.
Every one-off fundraiser has pros and cons, which you'll have to weigh when you're deciding what will be the best fit for your organization. But for now, let's talk through some of the more popular fundraising ideas for the holidays.
Candle Fundraising
We've covered candle fundraising before, and mentioned that it's not the best fundraising product namely due to their high cost, but people do find candles useful, especially during the holidays. They are a great way to make houses warm and festive, and they are the perfect favor to give to a host or hostess at any holiday party you attend.
Candles are a pretty popular item— they are used in 7 out of 10 U.S. Households. On top of that, approximately 35% of candle sales occur during the Christmas and Holiday season! While the most popular candle fundraiser is Yankee Candle Fundraising because they are a name brand, there are a lot of other companies that provide the same service. And keep in mind, whatever option you choose, you'll likely only see 40-50% of the profit. That means you'll be doing a lot of selling to see some really positive return.
Poinsettia Fundraiser
Have you ever wondered why the poinsettia is so popular around Christmas? The December-blooming flower generates over $200 million in sales every holiday season As for their distinct tie to Christmas, there is a Mexican legend of a girl who could only offer weeds on Christmas Eve, but when she brought the weeds into a church, they blossomed into a poinsettia.
Poinsettia fundraisers only occur in November and December, and it's pretty time sensitive process seeing as you want the flowers to look good when you are selling them or having families pick them up. So you'll want to set dates for delivery and pickup and start marketing! A lot of people purchase poinsettias when they go to the store, or they make a special trip to the greenhouse, so make sure they know they can pick up the holiday flower from you instead. Be warned: you need to get your orders in soon with this one!
Wrapping Paper Fundraiser
Nothing says "holiday fundraiser" quite like wrapping paper fundraising. It works because people need to buy wrapping paper anyway. You just need to have a lot of people partake because it is a pretty low-cost product. Also, make sure it's good quality wrapping paper; people won't want to buy cheap wrapping paper that will rip easily and will quickly end up in the garbage.
There are two ways you can go about running a wrapping paper fundraiser: sell the tubes of wrapping paper and gift wrap from a catalog, or make an event wherein you wrap people's presents for them. If your mall or shopping center gets crazy around this time, setting up a present-wrapping table is a great option to help out the community. But as more and more shopping is done online, it's not a bad idea to sell the wrapping paper as well.
There are a handful of companies that offer different packages and catalogs of gift wrap options, so you need to find the one that is the best fit and gives your organization the best profit.
Bake Sale
The holidays mean eating sweets, and lots of them. Capitalize on everyone's festive sweet tooth and run a bake sale. You'll need volunteers to help man the table and to make the treats, but with so many people already making holiday treats, it's not hard for them to double their recipe.
If you want to avoid having a ton of the same baked good at the bake sale have parents fill out a sign-up sheet for what they plan to make. Then you can make sure there will be more than just cookies, although, that wouldn't be the end of the world.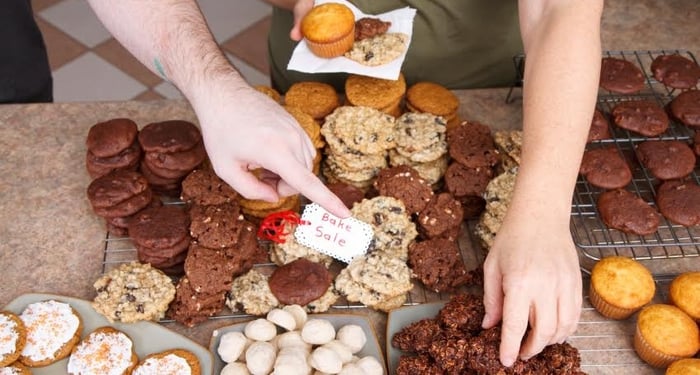 When it comes to what to make and how to transport them, there are a ton of options out there! If you're strapped for time, consider making treats you can freeze once you've made them. They won't lose their flavor if you freeze them correctly. You can also take the no-bake route if you don't want to be monitoring the oven.
Go the extra mile with your bake sale and outfit it with plates, napkins, silverware, and maybe a few refreshments, to make the bake sale feel more like a gathering instead of a buy-the-cookies-and-run event.
Gift Card Fundraising
You know what a great and easy present giving a gift card is, but did you know you can also use gift cards for your everyday spending? That's the premise of gift card fundraising, and why it is such a popular one-off fundraising idea for the holiday season.
The typical notion is a family signs up on ShopWithScrip.com and orders their own gift cards and earns rebates for your organization. Then they use that gift card on their own spending, which is still true for a one-off fundraiser. You just might want to also sell gift cards to families without them signing up online. So you would be buying the gift card and earning the rebate, and then selling it at face value to a family who will use it on their purchases.
ShopWithScrip has a great selection of gift cards, you can order them for everything. They even have them for Amazon.com for those who prefer to do all of their shopping there.
While we normally recommend running a gift card fundraiser all year long to maximize your earnings, it's a viable option for a quick one-off fundraiser as well. In fact, organizations that run scrip fundraisers all year long have found that one-third of their annual sales come from November and December, so you could even just run this for November and December and be fine. It can be an adjustment to paying with something other than a credit card, so start your scrip fundraiser now to cut out any lag.
What Do All of These Fundraisers Have in Common?
With all of these fundraisers, you will be doing a good deal of selling products. Luckily, all of these products are items people actually want and need during the holiday season. To make the most of whatever you choose, really spread the word about your fundraiser, and if it's possible, piggyback on another event at your organization.
You'll need volunteers, you'll need to be organized, and yes, you might be fatigued when it's all said and done. But you don't want to miss out on holiday fundraising!
Next Steps: