Back-to-School Shopping with Scrip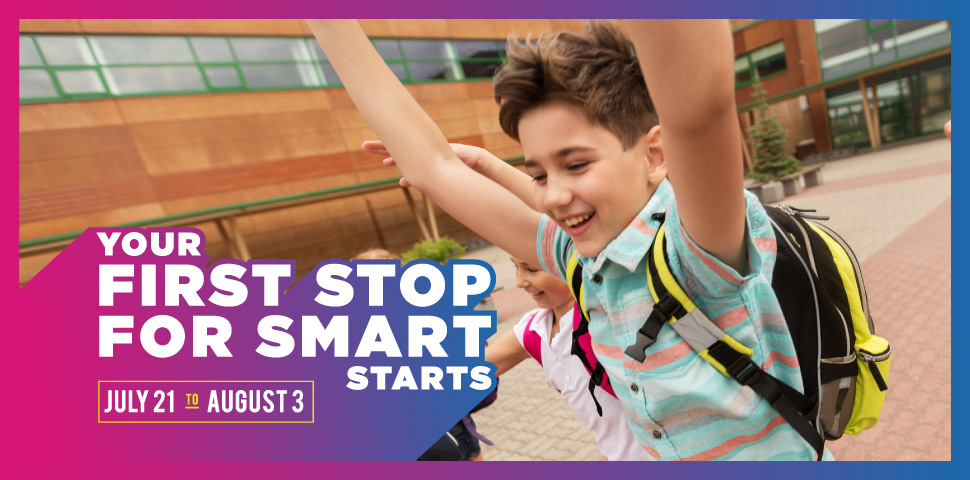 Does it feel like you blinked and the summer was over? We feel your pain, and we know the next few weeks of rest, relaxation, and inevitable back-to-school shopping will be expensive. In fact, the average family with kids in elementary and high school is projected to spend $684.79 this year on clothing, shoes, school supplies, and electronics.
In most cases, you can't avoid these expenses. But luckily for you, starting on July 21 and going through August 3*, ShopWithScrip is offering huge back-to-school bonuses on all of the scrip you need to get the kids ready for their first day back.
We've highlighted some of the bonus rebate offers below to show you what you can earn. You can also shop the bonuses.
Dining and Quick Eats
Rebates ranging from 10% to 19%
Getting back in a routine during the first few weeks of school can leave you feeling exhausted. Between packing lunches, serving snacks, and making dinner, you might need a break. 19 different dining options are offering great bonuses so you can earn big on your favorite pizza places, sub shops, and restaurants.
Clothing and Accessories
Rebates ranging from 8% to 20%
Whether your kids have outgrown last year's school uniform or clothing, or they want to spruce up their style, make sure you grab your scrip before you shop. You can even get a head start and find some great deals on outerwear now, so your kids are ready when the seasons change.
School Supplies
Rebates ranging from 4.5% to 17%
From backpacks and lunchboxes to calculators and electronics and everything in between, you can use scrip to pay for everything on their school supply list. If you plan on heading to Target for your back-to-school shopping, do note that they're offering a bonus until July 27—don't miss it.
Vacation Planning
Earn 4% on Disney scrip, and 8% on Princess Cruise Lines
School might just be getting into the swing of things, but it's never too early to start planning those Fall, Christmas, and Spring Break vacations. If your family is planning a Disney-related trip, or you're heading out on a Princess Cruise, you could earn extra by purchasing scrip during these back-to-school bonuses.
College Kids
Rebates ranging from 4.5% to 20%
If you have a college student on your hands, back-to-school for them can get even more expensive. Get them scrip for electronic purchases, wardrobe updates, and living essentials. You can even give them gift cards for restaurants and quick dining options for when they're away.
Bonuses for You
Rebates ranging from 7% to 18%
It's safe to say you might have some more time on your hands with the kids back in school. With these back-to-school bonuses, you can earn more on things like your home improvement projects, trips to the spa, or a little retail therapy.
With all of these amazing bonus rebates, you'll want to make ShopWithScrip your first stop for smart starts.
*Target is offering a bonus from July 21-July 27
Next Steps:
Spread the word about these bonuses to the rest of your organization by sharing our Facebook post.