Earning for Private School Education Year-Round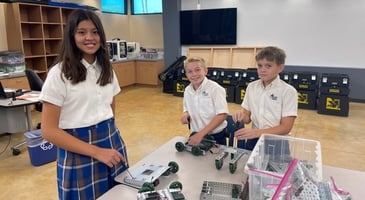 Sacred Heart Catholic School has used RaiseRight gift card fundraising program for more than 20 years to create opportunities for students. And recently, they raised $240,000 in a single year.
What makes the program so successful? Each student has a $300 fundraising minimum, which motivates families to start earning with gift cards instead of paying the school out of their own pockets. Once they see how easy it is, they often keep earning.
Plus, the program is deep-seeded in their community. The school invited a local orthodontist office, car wash, and restaurant to participate in the program, so families can shop and earn while supporting these businesses—in addition to the 750+ brands that already participate.

"It's a no-brainer. There are no meetings, no setup, no cleanup. It's the easy, year-round fundraiser that doesn't require families to spend any additional money."

– Kathe, development director
With funds raised, the school has built 16 new classrooms and a new STEM lab, purchased iPads for every student, funded teachers' aids for every class, and more.